Herby goes to Hörby.
05.08.2017

Although Magda has just turned nineteen, she has already been driving competitively for a decade in a wide diversity of race cars.
Incredibly the Skane native, who earlier this month posted the fourth fastest qualifying time in the SuperCar class of the FIA European Rallycross Championship at her home event in Holjes driving her 600bhp VW Polo Mark 5, cannot drive down to her neighbourhood shop to buy some milk as currently she does not have a driving permit.
However all of that is about to change. Free from the necessary distractions of her school work following her recent successful graduation from the International Baccalaureate Programme at Lund's renowned Cathedral School, one of Magda's near term goals is the attainment of her driving permit.
Having recently taken delivery of some stylish personal transport in the form of a beautiful VW Beetle, courtesy of Volkswagen Sweden, Magda now has the means and the determination to work towards her goal to be a road legal driver.
Parallel with embarking on her own driver's education programme Magda wishes to leverage this experience to remind other young drivers of the importance of responsible driving behaviour.
Ideally placed to be an ambassador for road safety awareness Magda, the experienced race driver,  knows that an entirely different skillset is required for safe driving on public roadways.
" Acquiring my driving permit has been on my to do list for quite a while and finally my schedule allows me to begin that process. The arrival of my fabulous Beetle has certainly added impetus to  realising that ambition. When driving competitively I am acutely aware that I am in a very controlled environment where safety is always the number one priority. The safety systems on board my race car combined with my own personal protective safety kit lends me the confidence that should something untoward happen I know I will be well protected.
However I am keenly aware that the public highway is an entirely different space and demands a completely different driving discipline. In the context of 25,500 fatalities on European roads in 2016 it is incumbent on all of us to exercise care and consideration for our fellow road users. My message to all motor sport enthusiasts is to always keep the race in it's place and when driving on public roads arrive alive. "
So comments Magda a clearly socially aware and responsible future road user.
Then and now – look who is 19.
14.07.2017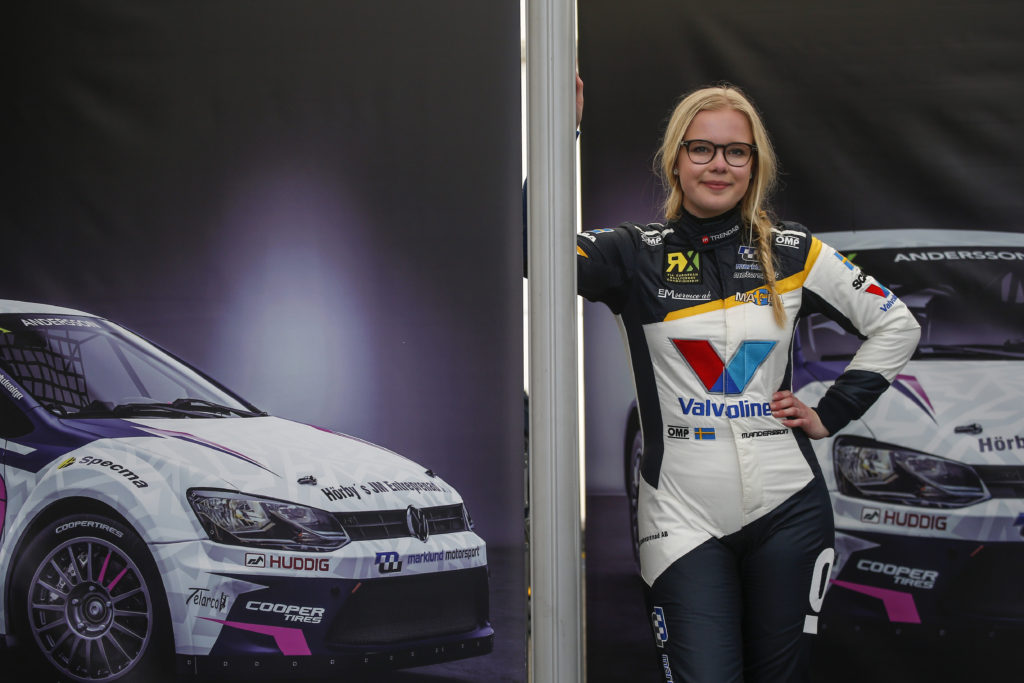 Race suit styles may have altered somewhat and the trophy cabinet has certainly been extended many times in the intervening years.
But the same quiet determination and competitive streak that inspired an ambitious  thirteen year old to progress from her formative years in karting to rallycross is still just as evident today as she contests the premier class of the FIA European Rallycross Championship in her fabulous VW Polo Mark 5 SuperCar as a now nineteen year old.
Today we celebrate her birthday. Grattis på födelsedagen kära Magda !.
Transformational Magic – Holjes Race Report.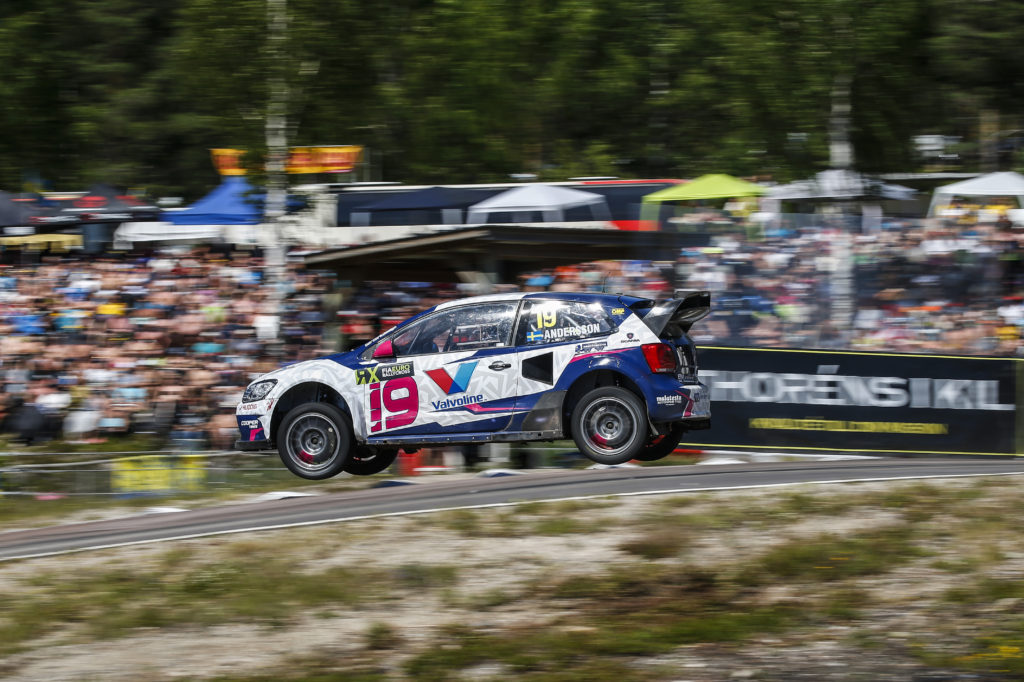 02.07.2017
This weekend's Swedish round of the Euro RX was always going to be a special event in  Magda's 2017 race calendar. Not only was it her third event in the series but more pertinently it would take place in front of her partisan home crowd. Supported by family, friends and her most vocal fans Holjes was bound to weave it's magic spell on her SuperCar journey.
With another record spectator attendance the lure of this venue, nestled deep in the forest country of Sweden's western Varmland province, continues to grow in popularity.
However comforting and supportive home races are they also demand a great deal of a driver as everyone wants to perform well in front of their compatriots. Exercising her characteristic cool, calm and professional temperament Magda managed to redouble her focus and once again make huge strides in her development as a SuperCar competitor. Building on her previous event experience and drawing on her circuit specific pre event testing regime she demonstrated once again why she is one the sport's most exciting young talents.
Given the sheer number of entrants it would prove a long weekend of driving as SuperCar free practice took place on the Friday evening in near perfect Summer weather conditions. Showing her intent from the outset Magda posted a ninth fastest time from a field of 33 entrants.
Unlike the previous events Saturday's two qualifying rounds also took place in similar dry and sun soaked weather which meant that race car setup remained unchanged from that promising practice performance.
In Q1 Magda stormed into the lead in her heat and set a personal best SuperCar qualifying performance by stopping the clocks as sixth fastest overall qualifier. She emulated that lightning launch off the line in Q2, once again leading the pack into turn one. However a heavy landing blew out two tyres and that unfortunately determined her fate in Q2. The resulting consolidated overnight  position was not reflective of her pace that was so evident in both practice and race conditions.
Unbowed Magda embraced  Sunday's qualifying rounds as another opportunity to prove her credentials as an emergent  SuperCar front runner. In Q3 she certainly delivered on that potential by coming a sensational fourth fastest in class and winning her heat much to the delight of her home support. Race dynamics in Q4 meant she could not achieve the stellar result of the earlier heat. Nevertheless the attainment of yet another top ten heat placing secured her a place in her first SuperCar semi final and a credible twelfth placing in the intermediate points classifications crowned a superlative qualifying performance in this only her third event.
To put that performance in context it is worth remembering that there were 33 Euro RX entries in this event and Magda achieved the fourth fastest qualifying time, in absolute terms, of the entire event.
Making a cautious but determined start in her semi final Magda managed to skillfully avoid the initial first corner contact but unavoidably collided with another car that was thrust directly into her path by that earlier contact. So ended a memorable weekend for the talented Skane driver. It was a disappointing end to such a transformational weekend on her SuperCar journey but the positives from this magic weekend far outweigh that one negative and Magda's  incredible performance augurs exceedingly well for the remaining races in the 2017 championship.
Taking up her personal account her Holjes experience Magda commented. " Coming home to Holjes was always going to make for a special event for the team and I. The atmosphere created in this beautiful part of western Sweden by some of the most passionate fans anywhere was palpable. As a driver there is enormous pressure to keep those home fans cheering but that is balanced by their enthusiastic support.
The say that I leave here extremely pleased with my performance would be an enormous  understatement. I can honestly state that I have comfortably exceeded my own pre event expectations. In particular by realising my stated objective of translating the pace experienced during my pre event testing into real time race conditions. My qualifying times certainly vindicated my own view that we are on the correct trajectory, to my ambition of the attainment of a podium position. To effect incremental progress, in the context of the hyper competitive environment that prevails in this class, can be frustratingly slow at times but I know that further excellent results will accrue with more seat time in this fabulous car under race conditions.
Marklund Motorsport once again provided me with the best possible race car  and setup together with their superlative on event technical and personal back up. Without this amazingly talented  team of people behind me none of these results  would be possible. Take a bow guys ! I also wish to convey huge gratitude to all of my loyal supporters who visited me in the  paddock and who were so vocal during the races.Finally I am thrilled to celebrate my team mate's victory in the Euro RX final thus further consolidating his overall lead in the series.  Stor Grattis Anton. "
Now it time to enjoy this great Summer season and look forward with renewed determination to the recommencement of race action in September at the crucible of French rallycross at Loheac. Let the magic continue !.
Stay in contact with Magda's Summer via her social media channels and some upcoming news items in this space.
If you go down to the woods today – Holjes preview.
23.06.2017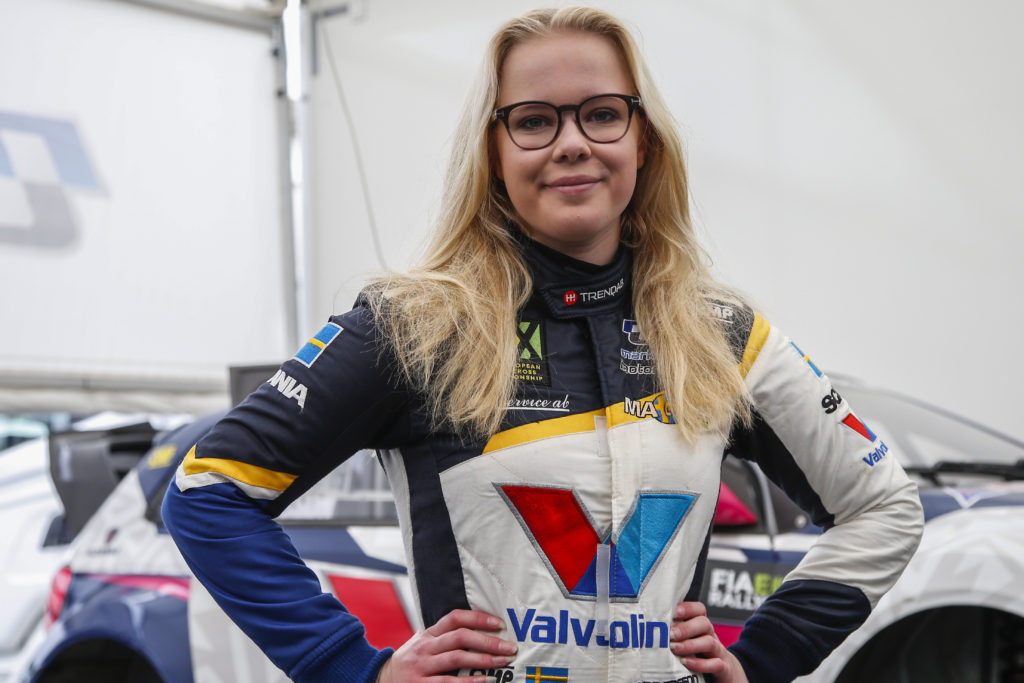 " Some people call it magic, I call it home "
Iconic is a very much over used term but when applied to the phenomena that is Holjes it certainly rings true. Combining as it does the raw authenticity of a traditional rallycross circuit with the modernity of the world class organisational skills of the hosting club. With attendances now exceeding 30k for anyone who loves rallycross Holjes is the venue of choice over the July 1st. and 2nd.  weekend. Nestled in the midst of the beautiful forest lands that predominate this part of western Sweden Holjes is the quintessential celebration of man and machine in an idyllic mid Summer setting.
To Magda this not only marks her third SuperCar event but it is also has the distinction of being her home round of the Euro RX. Every driver races to win of course but to compete in front of one's home audience only adds to the ambience of the magic weekend. Encouraged by a very competitive outing in the recent Norwegian round of the Euro RX in Hell two weeks ago driver and team are looking forward with the confidence that is born from the meticulous preparation that comes with competing at this level in the sport.
Previewing her home event Magda comments. " Since I was a little girl the dream of driving in Holjes has been one of my principal motivators and having driven here on many occasions in other classes I am really enthused about driving my fabulous Polo Mark 5 SuperCar over this renowned circuit. The support of the crowd here is almost tangible and together with the presence of family, friends and commercial partners marks this event out as one of the highlights of Summer. I am very confident that we can build on the progress that was so evident in Hell and significantly Holjes is the only circuit where I have had the opportunity to test prior to a championship race. Consequently I can really focus on the actual racing here from the outset as I already know how the car reacts on this track from our test data. I am really looking forward to greeting fans old and new in my pit area where a bumper stock of my new autograph cards will be on hand, so please do drop by and say hello. See you there !. "
Whether you are a dyed in the wool rallycross supporter or an ardent party goer join us in this unique celebration of Summer deep in the Swedish forests next weekend.
Stay tuned to Magda's magic weekend in Holjes via her social media channels.
Steady progress – Hell Race Report.
11.06.2017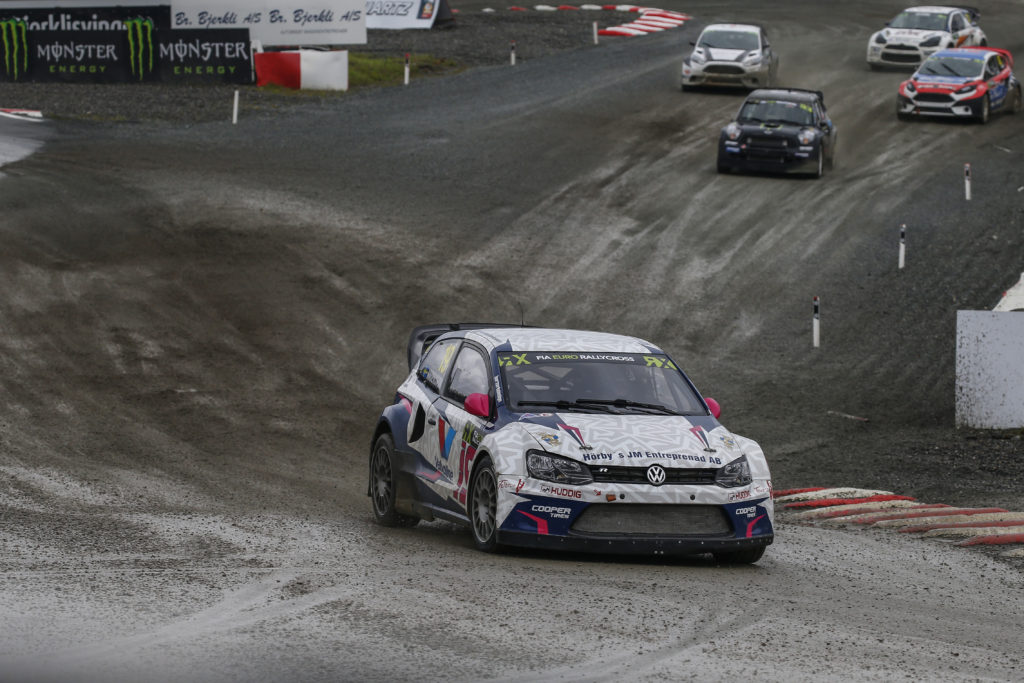 Enjoying the heat in Hell !
The annual visit to Hell began with Friday evening practice which was held in perfect Summer weather conditions. Driver and car felt good and the crew effected final setup changes ahead of Saturday's two qualifying sessions. As if mirroring the first day's racing at round one in Barcelona the weather would once again play a huge part in this event also. Rain arrived early on Saturday and persisted throughout most of the race schedule. Whilst rain fall amounts were relatively modest the effect on track conditions was more profound and more pertinently on car race setups which were honed in the dry conditions that prevailed during the previous evening's practice runs.
Nonetheless Magda acquitted herself extremely well in Q1 race adopting a cautious but determined approach that saw her finish her heat in third position behind wet weather specialist Mats Ohman and the very experienced Robin Larsson. Her reward was a very credible sixteenth position in the overall standings out a total field of twice that number.
Unfortunately in Q2 things did not quite go as planned. Having made an excellent start Magda opted to go it alone on the main track whilst everyone else dived into the joker deviation. This resulted in her leading the heat and planning her joker strategy when on lap three, whilst negotiating the tricky corner at the base of the downhill section of the course, an engine stall saw her tumble down the overnight standings. It was a cruel twist of fate that was not reflective of her excellent and improving pace during the event thus far. However true to her unrelenting character this temporary setback only served to strengthen Magda's resolve for the Sunday runs.
Sunday's early overcast but dry conditions made a very welcome start to the day. Likewise Magda made the best possible start to her day with a superb launch from the start line and a fast but controlled display of driving that delivered her first Supercar heat win. Her time was also excellent finishing eleventh in the overall heat standings a fitting reward for her superlative driving performance coupled with a very clever race strategy by her team. Revelling in the dry conditions Magda once again made another lightning start in  Q4 and lead the heat before having to settle for second in heat on the final lap as she emerged from her joker lap to join the main circuit. Nonetheless she managed to post the thirteenth fastest time in the heat.
Overall Magda was classified a very impressive fifteenth in the intermediate classifications from a field of 33 SuperCars, collecting her first SuperCar points in the series in this only her second event in the class.
Magda also created her own piece of rallycross history here this weekend by being the first Swedish woman to win a SuperCar heat and the youngest ever female driver to score points in the FIA ERX Championship for SuperCars.
Reflecting on the weekend Magda said. " The overall sentiment that I take from this weekend's event here in Hell is one of the quiet satisfaction of knowing that we are now translating the pace that we have seen in my test sessions into the racing environment. I have always been confident in both my driving skills and my race craft. Now I have proven that I can deliver that pace under race conditions. What I now need to work on is to deliver such results ever more consistently. Once again I must pay tribute to the  amazing team at Marklund Motorsport for working so diligently all weekend in some very demanding track conditions to provide me with such a an amazing car. I would also like to congratulate my team colleague Anton on his excellent performance this weekend and consolidating his lead in the overall championship. Many thanks to all my Norwegian fans who dropped by to say hello this weekend and for all of my fan support over social media throughout the event. Now I am looking forwarding to bringing it all home to Holjes. See you there!."
HELL-o Norway !
03.06.2017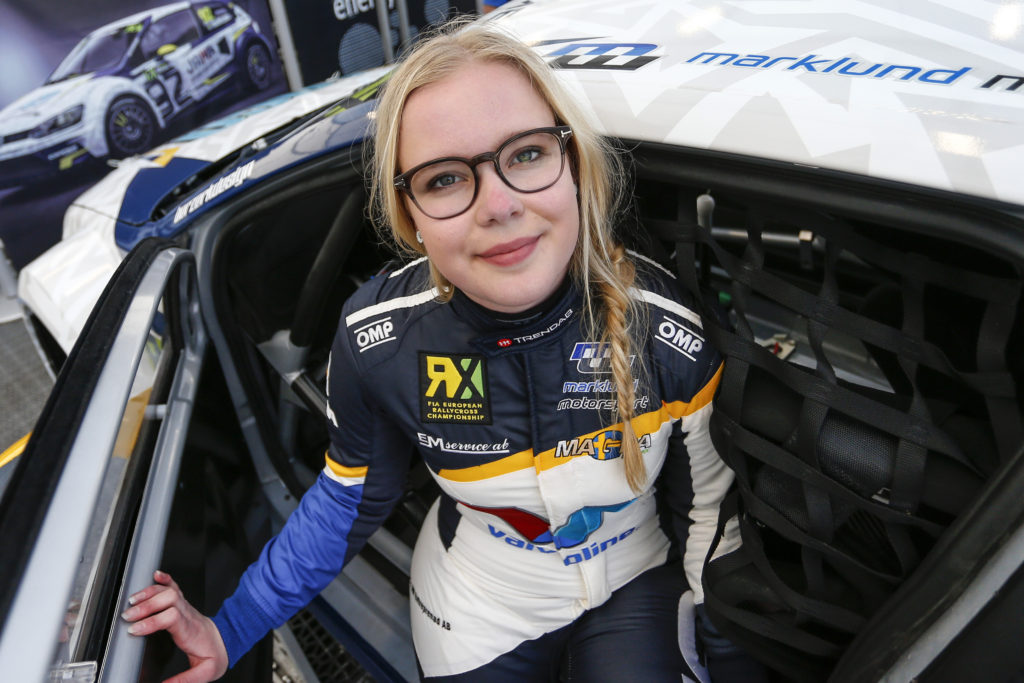 Magda shares her thoughts on ERX Round 2.
Summer is here at last and the FIA international rallycross series is returning to Scandinavia with the now traditional Nordic double header events at Hell in Norway and Holjes in Sweden.
It has been a particularly long break from racing action for Magda and her fellow SuperCar competitors in the FIA European Rallycross Championship. The 2017 season opener took place almost two months ago in Barcelona. That event seen an emphatic win for Magda's Marklund Motorsport team mate Anton Marklund driving an identical Volkswagen Polo Mark 5 to the car that Magda is competing with this year. The Spanish event proved a disappointing debut in the SuperCar class for Magda as a combination of atrocious weather conditions experienced during the Saturday qualifying heats and a rare transmission failure during heat three conspired to exclude her from semi final qualification in round one of this year's ERX challenge.
The break from race action has proved an extremely busy time for the Skane native  consumed as she was by her academic studies, preparing for her final examinations in the International Baccalaureate Programme at Lund's renowned Cathedral School. With the successful conclusion of her examinations three weeks ago Magda can now apply her full energy to her motorsport pursuits and specifically  the pivotal upcoming races at Hell and Holjes.
" I have not attempted to disguise my sense of disappointment and frustration at the outcome of the opening race in Barcelona. However I know that there was such a confluence of adverse circumstances at that event that were completely removed from my control that one cannot dwell upon that one event.
Recently all my energies have, by necessity, been directed towards the successful completion of my final school examinations. I am cognisant of the importance of the attainment of a good education as an essential perquisite to any future career opportunity. I am most appreciative of all the support from my fans as evidenced via my social media channels over the past few months.
But now my full focus is on the physical, psychological and practical prep work that goes with competing at this level in rallycross. Despite my academic workload I have undertaken further testing gaining vital seat time during  our team's recent test session at Holjes. Similar to our preseason testing regime I am very encouraged by my pace and particularly been afforded the opportunity to drive on a circuit that I am familiar with and more pertinently one that will host my home event in July.  I am also fortunate to be able to pace myself against my team colleague Anton who has such a wealth of SuperCar experience and is the current class leader.
Hell is a circuit that I know very well from my previous Touring Car events there. It is a very challenging but hugely rewarding track to compete on and I am feeling very confident going there with a class leading car and the support of one of the most experienced teams in the paddock.
Looking forward to meeting you all in Hell!. "
So commented a very energised and enthused Magda as she completes her pre event preparations and looks forward to the resumption of the FIA European Rallycross Championship for SuperCars.
Do come out and enjoy Summer with us at Hell's Lankebanen over the weekend of June 10/11th.  and follow Magda's progress during the event via her social media channels. God Sommer !.
Easter Greetings.
                         16.04.2017
The Easter holiday is traditionally the quintessential celebration of Spring and a time that we all look forward to the lengthening days, the imminent arrival of Summer and the return of rallycross to Northern Europe.
Magda wishes to extend her very best holiday wishes to everyone in the rallycross community and particularly her loyal and ever expanding fan base.
Thank you all so much for you continued support and now that Summer is almost here it will not be long until Magda will be bringing it all back home to Hell and to Holjes.
Happy holiday or as we say in Sweden Glad Pask !.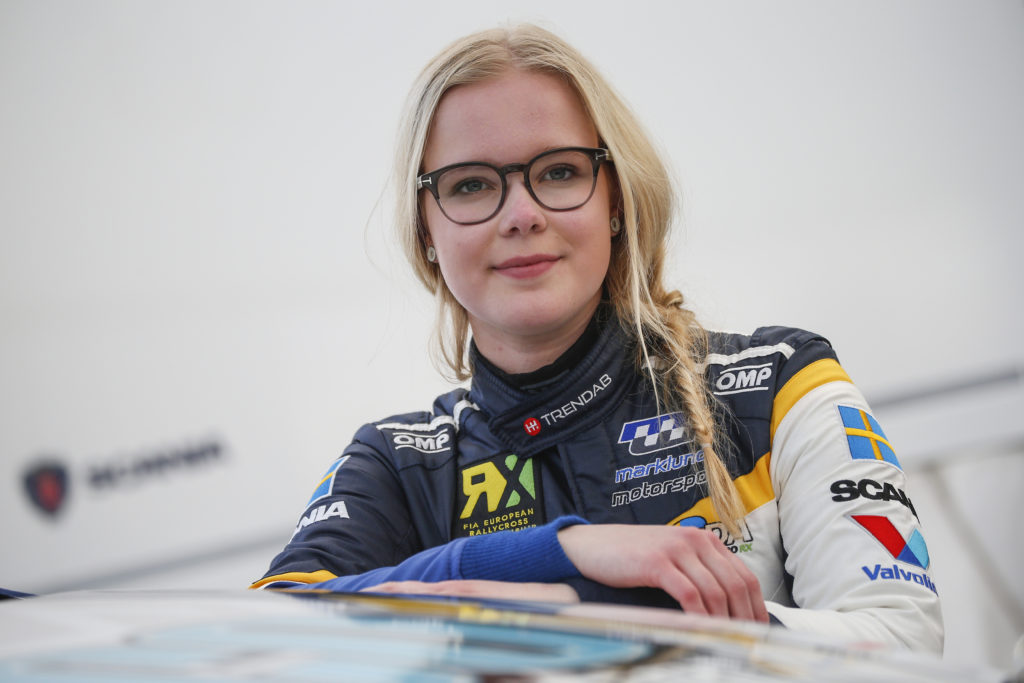 Spanish Lessons – Barcelona race report.
02.04.2017
" Life is not about waiting for the storm to pass. It's about learning to dance in the rain "
The opening round of the 2017 FIA European Rallycross championship proved a very steep and challenging learning curve for Magda this weekend in Barcelona. Faced with an entire season's worth of varying weather and ground conditions in addition to this being her inaugural event in the SuperCar category certainly tested Magda's resolve. But, as always, in her quietly determined way, she rose to the occasion and redoubled her efforts to overcome adversity and garner some invaluable extreme driving  experience that she will undoubtedly apply in her upcoming races.
The old adage of " the rain in Spain falls mainly in the plain " certainly did not ring true on day one at Circuit de Catalunya. Notwithstanding it's relative proximity to the sea as opposed to the plain weather conditions presented huge challenges to drivers and race engineers alike. Rapidly alternating periods of dry and wet weather conditions rendered tyre and setup choices a lottery.
During Q1 the track conditions  quickly deteriorated with the loose sections and the carryover between the former and the paved sections of the course presenting a surface coating devoid of grip. To further exacerbate matters the grid draw dictated Magda was in the last heat and she was also was drawn on the outside row. Race plans formulated from the dry track conditions, experienced during practice, became irrelevant. A slight brush with the barrier on approach to the jump, when her vision was impaired whilst chasing down another competitor, caused an upset to her car's landing reaction which propelled it into the opposite track side armco. Whilst the incident did not incur any damage to the car it did cost Magda precious time.
Weather conditions had improved for Q2 but still the loose sections were far from ideal for a SuperCar debutante. However despite this Magda finished third in her heat and eagerly looked forward to the forecasted drier conditions that were set to prevail for day two in Spain.
Sunday morning delivered a perfect mid Spring day with bright sunshine replacing the previous day's overcast gloom. Everything with the car and driver felt perfect during the warm up session and Magda looked forward to Q3.
However car 19 never left the start grid as a rare but terminal gearbox failure occurred as Magda was about to launch off the start line. Through herculean efforts her amazing race mechanics managed to change the gearbox within the almost impossibly tight time window between Q3 and Q4.
Thus enabling Magda to line up for the first heat of Q4. Having made an excellent start she was in second place heading down the fast start straight rejoicing in the fact that she was at last able to participate in at least one heat under dry conditions. Eventually she finished third in the heat.
Unfortunately she could not progress to the semi finals on this occasion but this event, notwithstanding it's trials, merely marks the beginning of Magda's SuperCar journey. The best has yet to come.
Reflecting on her first ever SuperCar event Magda commented. "Overall the weekend has been one of frustration for me as I know, from our pre event testing, that I already have the speed to compete on a par with my contemporaries in this class. However the weather prevailing during the vital qualifying sessions on day one really dictated the outcome of this event for me. My aim, as always, was to reach the semi final stage but unfortunately given the hyper competitive nature of the class that was just not possible here in Barcelona.
However I take plenty of positives from the weekend not least the fact that the, wet weather induced, treacherous surfaces have provided valuable lessons in handling a SuperCar under such extreme conditions in the heat of competition. These are skills that it is impossible to garner under test conditions and ones that I will apply in the remaining races of the series.
I am truly grateful to my engineer, race technicians and everyone at Marklund Motorsport who battled tirelessly this entire weekend to provide me with the best possible setup to tackle such a wide variety of track conditions. Also a huge Gracias to my fans for their loyal support in person and through my social media channels all weekend.
My abiding memory of this weekend though will the sheer exhilaration of driving this amazing VW Polo SuperCar in competition. I have likened the experience to stepping from piloting a small training aircraft to a fighter plane on full afterburn.
I also wish to convey my heartiest congratulations to my team mate on effecting the best possible start to his ERX campaign by claiming maximum intermediate points followed by an emphatic win in the final. Stor Grattis Anton !.
But for now it is back to my studies as my final examinations are looming but thereafter I am eagerly looking forward to my next SuperCar outing. See you all in Hell !."
It's Show Time– an exclusive insight as Magda looks forward to her first SuperCar race.
24.03.2017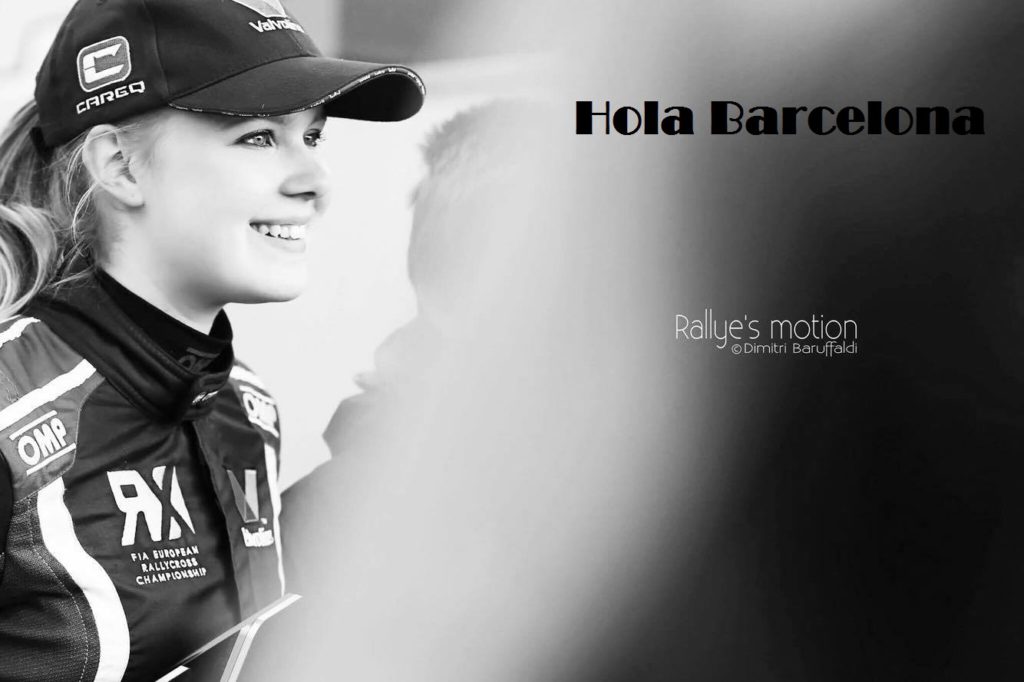 Spring heralds the annual avine migration northwards from the more temperate regions where they have sought sanctuary to escape the ravages of a northern Winter. Travelling in the opposite direction the rallycross fraternity undertake their own migration to southern climes as the race season commences anew.
Spain will host this year's curtain raising event which takes place at Circuit de Catalunya, situated just north of Barcelona, on the weekend of April 1st. and 2nd. next.
The announcements of record numbers of confirmed entrants in the various classes over recent weeks have raised the prospect of an extremely competitive and exciting campaign ahead.
The ERX series comprises of five events spread throughout the Summer and early Autumn.
Fulfilling a long held ambition to contest ERX's premier, SuperCar class Magda is finalising her preseason preparations before embarking on the most exciting season to date on her rallycross journey. Even though still just eighteen years old this is Magda's sixth season competing in rallycross and her fifth participating  at international level. Her determination on the track is mirrored by her dedication to preseason preparatory work. This year presents particular challenges as it is also a landmark year in Magda's academic career as she manages a huge workload ahead of her graduation, this  Summer, from the international baccalaureate programme that she has been studying. All of this means that Magda has had to become an accomplished doyenne of time management.
Sharing her thoughts on the upcoming season Magda comments thus. " I am tremendously excited by the opportunity that has been afforded me to participate at the pinnacle of ERX competition. Through necessity my studies have commanded a great deal of my time and concentration throughout the off season. But I have also applied myself to the physical and psychological preparations that are essential to be competitive as this level of the sport.
The level of competition has reached an historic high in all classes and none more so than in the SuperCar one with 29 confirmed, permanent entrants and several, event specific, ad hoc drivers taking part. My approach, as always, will be one of cautious optimism. I have complete confidence in my new team to provide me with the best possible challenger in the form of the incredible Polo Mark5 as  evidenced from our testing programme. I am privileged to be working with such tremendously talented people who all share my vision of the level that we need to attain in such a competitive environment where the bar to success has been raised very high indeed. I feel the skillset that I have honed from driving a varied stable of race cars will stand me in good stead to pit myself against the very best drivers in class.
This is the attainment of a dream and I am tremendously grateful to both my new team together with the support of my generous commercial partners who collectively have made my participation at this level of the sport a reality. I am so looking forwarding to meeting  all of my  fans, both old and new,  at the various venues in the coming months. I really appreciate all of your support and good wishes ".
You can follow Magda's progress via her social media channels and here where we intend to keep you informed with regular updates, race reports and new features chronicling what promises to be the most exciting chapter, to date, in Magda's rallycross adventure. Better still why not drop by in person and say hello at her pit area at any of the race venues, you will always be assured of a warm, Swedish, welcome.
Detail information  of events, results,  standings and general background on the sport can be found by following the link hereunder to the website of the series promoter.
http://www.fiaworldrallycross.com/
                          No glass ceilings – Happy International Womens' Day.                                     
                                                                                                                                    08.03.2017
Motor sport is very often seen as one of the last bastions of male domination.  But slowly the tide is beginning to turn and Magda is at the forefront of a new generation of talented and determined young drivers to emerge in the rallycross arena in recent years.
These young drivers are not defined by their gender but rather by their ability and commitment to be the very best at what they do.
Recent initiatives such as the Swedish Motorsport Federation's " Girls Camp " held at their Bosun facility last Autumn point the way to the future. Events such as this have established a portal for young women to participate in an event which showcases the opportunities that exist in contemporary motorsport. Now it is incumbent on such young women to follow Magda's lead and seize the many opportunities that are now emerging in this space.
Reflecting on her motorsport journey to date Magda comments.
" I am often asked what it feels like to be a woman competing in a hitherto male dominated sport. I see things somewhat differently and regard myself first and foremost to be a driver who just happens to be a young woman.
When I am sitting on the grid and the starting light signals the start of the race my gender becomes irrelevant, believe me there is no ladies first etiquette in the motoring maelstrom that is the dash to that first corner.
I would encourage any young woman contemplating involvement in this amazing sport to work hard and follow your dream. Celebrate and be inspired by International Womens' Day ".
Magda – rising above glass ceilings.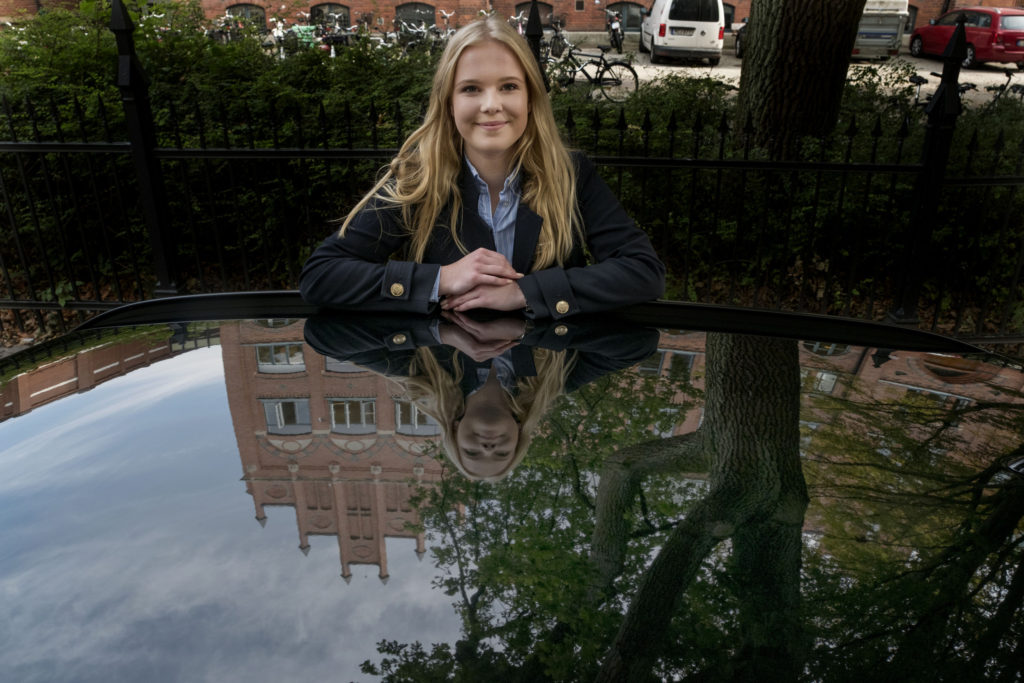 Photo by Ingemar D. Kristiansen
Project XIX unveiled.
01.03.2017
Reflecting the imminent arrival of Spring when nature produces it's dazzling displays of fresh hues to punctuate the Winter induced greyness, Magda too has been busy in the design studio.
Precisely one month in advance of the season opening event in Barcelona Magda has today unveiled the livery of her 2017 race car.
Resplendent in a completely bespoke design the Polo Mk5 SuperCar looks both purposeful and contemporary with it's bold, Magda inspired, purple flash detailing.
" I am absolutely delighted with the final outcome of our design deliberations for my new race car. I believe that the design team have managed to execute a dynamic and fresh colour scheme that reflects the wonderful new racing adventure that we are about to embark upon. I am so looking forward to presenting it to fans next month, Car 19 is ready to race and so am I "
Said a very enthused and proud Magda at today's design launch.

The company she keeps.
07.02.2017
On the fringe of the recent FIA Offroad 2016 Awards Ceremony in Porto, Portugal Magda received a warm and chivalrous welcome to the rallycross SuperCar club by compatriot and reigning double  WRX champion, as driver and team principal, Mattias Ekstrom, her former karting and JRX contemporary and 2016 ERX champion Kevin Hansen and the gregarious Andreas Bakkerud,Norway's most successful 2016 WRX competitor.
Magda summed up the occasion thus " It was a really gratifying experience to be made to feel so welcome as a fellow SuperCar competitor by these icons of the sport ".
Welcome to the SuperCar club Magda !.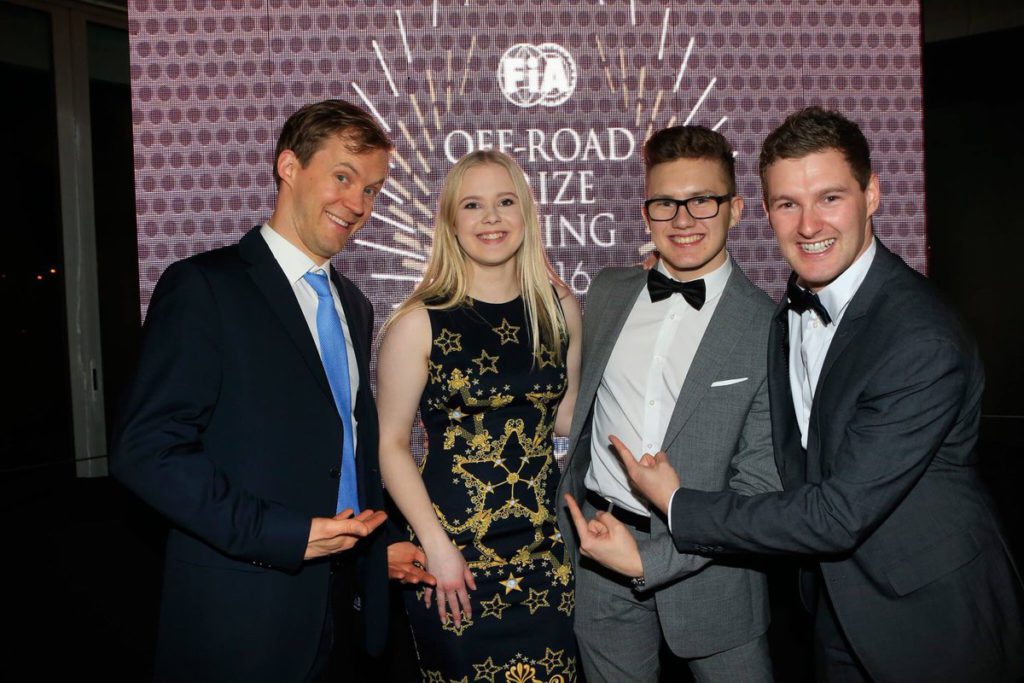 Photo. Paulo Maria / FIA
Awarding experiences.
28.01.2017
The joinery industry in the Skane region of Sweden is assured of a bright future as Magda's trophy cabinet is in constant need of enlargement.
Magda's stellar performances on the European stage in 2016 have generated the latest crop of awards to grace the Andersson home.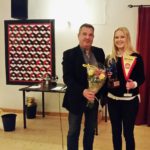 First up was SMK Horby's 2016 " Driver of the Year " award.  " It is very humbling to be recognised in such a magnificent way by one's peers as the receipient of my home motor club's most prestigious annual award ". Commented a clearly elated Magda after being presented with her award by the club chairman.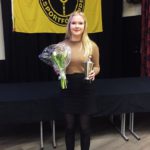 Although still only eighteen years old Magda has, for the third time in her career, been awarded the accolade of " Female Driver of the Year 2016 " by the Federation of Southern Swedish motor clubs. Once again recognition of Magda's leading ambassadorial role in the promotion of gender equality in rallycross.
The latest trophy to wing it's way, quite literally, to Magda's cabinet is the FIA European Rallycross Championship for Touring Cars Vice Champion of 2016 which was presented in Porto, Portugal at the FIA Offroad Awards ceremony which took place on Friday January 27th.
This magnificent trophy is the perfect compliment to the four podium trophies, from her successful 2016 campaign, already residing there.
Photo. Paulo Maria / FIA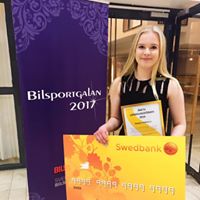 To crown a memorable weekend Magda dashed back from Porto to Stockholm to attend the Bilsportgalan 2017, Sweden's national motorsports awards ceremony, held on Saturday January 27th. where she was the recipient of one the evening's most prestigious honours that of " National Driver of the Year 2016 ".
" This weekend has been a whirlwind of truly memorable experiences and I feel extremely  humbled and grateful for the honours bestowed on me by the sport that I am so privileged to participate in " declared a very proud Magda.
Generation Next.
25.01.2017
As part of Magda's off track activities no opportunity is ever squandered to promote the sport of rallycross and to act in a mentoring role to enthuse and sow the seeds of interest to the next generation of potential race drivers.
The latest initiative undertaken by Magda was hosting a field trip by her old alma mater Kindergarten when they visited her team's base to learn more of the day to day activities that go to make a class leading rallycross team.
" It was a wonderfully refreshing experience to witness the unbounded inquisitiveness of the little ones and their interest in what I do " commented a clearly enthusiastic Magda.
Judging by the complimentary reactions on social media afterwards the young ones clearly concurred with that assessment of the visit.
Giving something back.       
02.01.2017

To compete effectively in today's ultra competitive rallycross arena a driver needs to undertake meticulous preparation both on and off the track.
Never has this been more evident than in the latest crop of emerging young rallycross talent.
Magda credits her participation in the Swedish Junior Rallycross Team programme as being a crucial ingredient in her development as a driver to date.
Run under the auspices of the Swedish Automobile Sports Federation the Junior Team programme assists young drivers between the ages of fourteen to eighteen years .
Reflecting on her participation, since 2013, in the programme Magda comments " The Swedish Junior Team programme has been hugely important in my development as a driver. They are not only interested in the imparting of technical driving skills but also in the holistic development of their drivers with physical, psychological, dietary and media modules delivered as part of the curriculum on their training days ".
The promoters are also leading the way in encouraging more female participation in the sport of rallycross. Last October the inaugural " Girls Camp " took place at SBF's facility at Bosun which acted as an open weekend to give prospective future competitors an introduction to the programme. Although still only eighteen years old Magda was chosen as one of the mentors for the weekend delivering the communications module. Magda summarised the experience " It was a fantastic event and I was amazed at the diversity and enthusiasm of the participants. It was also satisfying to have the opportunity to give something back to an organisation that has made such a significant contribution to my career in motorsport ".