Seeing the bigger picture – 2019 Season briefing.
Photograph by Henric Wollmér-Persson.
16.05.2019
Motor sport in general  and rallycross in particular always present challenges both on and off the track and here at Magda Motors these past few months have been amongst the toughest that we have ever experienced as we expended all of our waking hours on trying to assemble a package to enable us to continue to contest the FIA European Championship for SuperCars. Regrettably, despite our best efforts, we were unsuccessful in our quest and as a consequence we have had to accept that we will not make the grid for this year's competition.
Competing in the premier division of European rallycross has become an exceedingly expensive undertaking and the resources required are well beyond the means of a small, family based team. Consequently the availability of an adequate, externally sourced budget is an essential component in our ability to compete effectively and at the level that we aspire to.However the negative sentiment surrounding the sport created in the aftermath of the withdrawal of the manufacturers' support from the World Championship series at the end of last season created a huge ripple effect here in Sweden. Amidst the uncertainty it was entirely understandable that companies reviewing their 2019 promotional budgets did not perceive rallycross as a stable enough platform to commit scarce resources to.The parallel lack of clarity in timeline for the adoption of an EV class by the sport has also made it impossible to garner interest amongst new commercial backers who are driven by the improved environmental credentials of the sport by dint of the presence of an EV class.Thus we were caught in a perfect storm and a perusal of the confirmed entrants of a much depleted entry list for this year's series illustrates just how difficult it has been for so many of our contemporaries also.
A clearly disappointed Magda takes up the story. " This has been an incredibly stressful and frustrating preseason. The irony was that we had no difficulty from any opportunity perspective and options were made available to us from very early on. However in order to exercise those opportunities we needed a substancial budget commitment and given the adverse publicity surrounding the sport at the end of last season it became an impossible task to ask people to commit to pledging the kind of resources that we required to present the challenge that we know we can deliver on the track. Throughout our decade old involvement in rallycross we have always assembled the best possible package to enable us to be competitive. We simply do not wish to be on the grid to make up the numbers we have always presented ourselves to challenge for a win. But this year the bar to assembling that package was set too high and with a heavy heart we had to make the decision to take a sabbatical in 2019.The immediate future is not devoid of motorsport as this year it will be my turn to assume a supporting role for my younger sister Klara as she embarks on her second competitive season in national rallycross here in Sweden.  Looking further ahead I regard my ultimate ambition to race in the World Championship as merely put on hold and I will pursue every avenue to ensure that I will secure a seat for the 2020 European Championship as a vital stepping stone to the achievement of my ultimate goal. I will of course keep all of you, my wonderfully supportive and loyal fan base, fully informed by regular updates via my social media channels and  website ".
When a child was born.
Born ready – Magda's first Christmas and she already knew what she wanted from Father Christmas !
23.12.2018
As 2018 draws to an end here at MagdaRX we are in a reflective and celebratory mood as we bid adieu to the old year and prepare to welcome in the new.
It has been a developmental year for Magda garnering, as she did, invaluable international  experience whilst contesting the premier league of European rallycross with our good friends at DA Racing.
There have been some challenges along the way together with some truly inspirational performances which have allowed Magda to ably demonstrate her renowned race craft in one of the most competitive motorsport environments.
Magda is only too aware that none of her continued success would be remotely possible without the unwavering support of family, friends, our generous commercial partners and her expansive fan base. So what better time of year to acknowledge and give thanks to everyone who made Magda's 2018 campaign possible.
We wish you, one and all, every compliment of this special festive season together with a happy and prosperous new year and we look forward to seeing you all in 2019.
One last thought for 2018, do please join us in supporting the FIA's road safety initiative as reduced daylight and Winter weather conspire to present additional challenges on our roads at this time of year. Be Winter aware and always exercise consideration for your fellow road users.
Radio Play.
20.11.2018
Although the on track activity may have ceased for another year Magda continues in her quest to spread the rallycross story and in her promotion of the benefits of sport participation in general.
First up was an appearance on the popular breakfast radio show on P4 Malmöhus Sveriges Radio.In a lengthy and highly entertaining exchange Magda provided the show's presenters with a rallycross master class. The light hearted but informative extended interview once again provided the ideal platform to showcase Magda's prowess at communicating the virtues of her sport of choice. The positive reaction to the piece from listeners and radio station personnel alike was a fitting reward for her polished and relaxed performance.
Magda's most recent event was as a forum member at the annual Skåneidrotten day. Organised by the regional municipality the Skane sports day conference provides a vehicle for discussions surrounding the promotion and development of children in sport with a particular emphasis on their rights. As a young sports woman Magda was ideally placed to relate her unique journey from humble beginnings in the local karting scene to competing at the highest level of competition in her chosen discipline of rallycross. Sharing a platform with nationally renowned sports luminaries such as Kim Andersson and Caroline Jönsson, Magda thoroughly enjoyed the event and the theme of the conference clearly aligned with her own views on the benefits of participating in sport activities.
Commenting on her recent outings Magda said. " I am always keen to embrace any opportunity afforded to me to raise the awareness of rallycross as a sport to as wide an audience as possible and I really enjoyed the interaction and dynamic of the show's presenters together with the positive feedback following the broadcast. The radio appearance provided an ideal follow on to the inclusion of a two page feature on my sister Klara and I in the official Rally Sweden magazine earlier this year. The positive benefits that accrue from participation in sports in general has long since been a favourite theme of mine. The creation of a safe and nurturing environment for children where their right to play is seen as an essential prerequisite of all policy making decisions is a subject that I am particularly exercised about. In a world where sedentary pursuits are increasingly dominant it is imperative that children receive as much encouragement as possible to seek out and enjoy their sport experience. I am particularly interested in the promotion of gender equality and in illuminating pathways to retain the interest of young girls in sport as the progress through their teens where it would appear that dropout rates are at their most pronounced. Sharing a forum with such inspiring role models such as Kim and Caroline was yet another life affirming experience which I really enjoyed. "
Rigours of Riga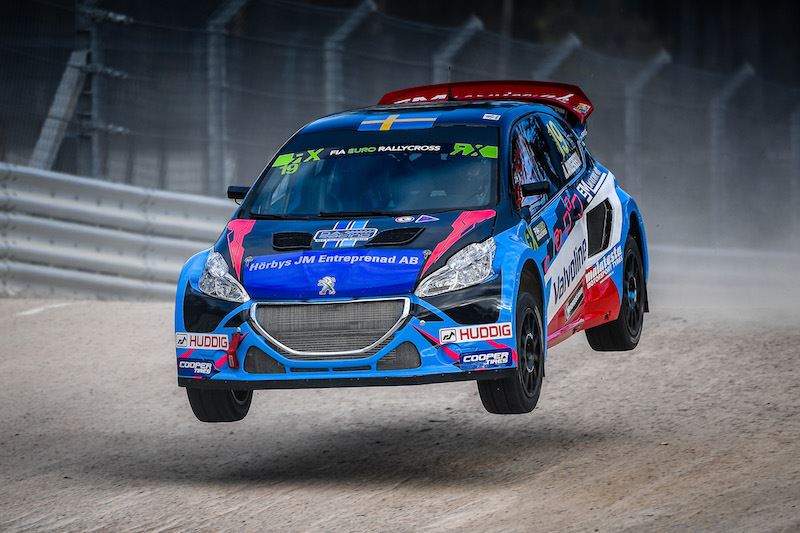 16.09.2018
The fifth and final round of the 2018 FIA European Championship for SuperCars held here in Latvia's capital city of Riga this weekend was universally acknowledged as one of the toughest and most challenging rounds of the series. As we discussed in our event preview the Bikernieki track is one that demands huge respect as the slightest misjudgement will not produce a happy ending. The almost complete absence of run off areas means that there is no margin for error as the track side barriers that delineate the circuit are unforgiving. Taken with the fact that the circuit also presents few if any overtaking opportunities this one would be tough. Thus the formulation of any race strategy this weekend was predicated on a good start. One of Magda's many strengths as a driver is her ability to execute a perfect getaway which would certainly be a major asset in Riga. However the Friday afternoon draw of the grid positions for Q1 did her no favours as she was drawn in race three, the first of the five car heats and in position five, being furthest from the turn in for the funnel like first corner meant that she would have to muster all of her fast reaction abilities. There would also be some good news though as the weather was set fair for the entire weekend which at least gave the team less to worry about from a setup perspective.
A conservative free practice run confirmed that the both car and driver were already happily dialled into the demands of the venue, Magda once again leading the DA Racing effort with her time. Right on cue when the lights turned green at the start of Q1 Magda effected the perfect launch as she stormed to the head of the field, a position that she would maintain until an unfortunate incident would rob of what looked like another heat win.Now relegated to a slower grid for Q2 the young Swedish driver once again called upon her lightning reactions to produce another perfect start only to be once again thwarted by the over exuberance of a fellow competitor. Despite spinning she quickly composed herself and put in some very impressive lap times to actually win the heat. Her resulting mid position in the Q2 time standings belied those superb lap times which pointed to P6 potential had her race plan not been marred.But Sunday would present a new opportunity as Magda knew that she had both the setup and speed to post some really fast times. Unfortunately once again rallycross proved that unlike fairy tales happy endings are never guaranteed. Q3 saw her line up on the same gird position as Q1 and despite yet another incredible launch the aftermath of contact between two other drivers propelled her 208WRX into the trackside barrier. Although both car and driver suffered from the resulting impact thanks to the herculean efforts of the DA Racing squad's technical team and Magda's own never give up philosophy she once again lined up on the grid for Q4. However her semi final aspirations had  already evaporated  as her Q4 heat would afford her little opportunity, despite her unrelenting efforts, to elevate her consolidated position from so far outside the requisite top twelve placings for a place in the semis.Thus Q4 marked the end of a frustrating weekend here in the Baltics where despite the team's best efforts to equip her with the perfect setup for this challenging arena and her own skillset as evidenced by her superlative starts and fast lap times a semi final placing would elude Magda.
It was not the season end that anyone of us here at MagdaRX had hoped for but we are all tremendously proud of how our driver battled until the very end and once again ably demonstrated, in her inimitable way, that gender is no bar to participation at the highest level of a European motorsport competition.
Magda takes up the story of a tough weekend in her own words. " If I had to summarise this weekend in Latvia in one word it would be frustration. Knowing that thanks to the highly talented race technicians at DA Racing we had a really good setup and that I was confident in my driving skills I felt coming here that we had a really competitive package to tackle this challenging event. But rallycross has, not for the first time, taught me there are situations that are completely out of one's direct control that can conspire to negate the best laid plans. Clearly not everyone was reading from the same page as we were which said that this track is so unforgiving of anything less than precision track positioning. However I can also take some positives from my performance and that of the team. I am particularly proud of my launches all weekend and my lap times when I got some clear air and no damage were on a par with those achieved in Loheac. From a wider perspective I have thoroughly enjoyed my Summer and particularly the experience of working with such a professional and friendly international squad such as my colleagues at DA Racing. Their welcome and treatment of me transcended that of a professional racing relationship and I really appreciated the positive and collegial ambiance that prevails within the team. I am also very pleased with my own performance and my ability to adapt my driving skills in a very short time window to the wonderful Peugeot 208WRX race car. Although we only competed in just four of the five round series my on track points tally would have placed me in mid pack in the overall competition rankings had it not have been for the unfortunate technical fine which negated my points total. As always I would like to thank my family, the Dubourg family and all at DA racing together with my generous and loyal commercial backers without whose continuing support none of this would be remotely possible. Finally I would like to commend you the fans who have turned out in such huge numbers to welcome me in person at the various venues together with sending me all the supportive and encouraging messages through my social media channels. Thank you all ".
Thus concludes yet another year that has, as always, brought it's share of elation and challenge, but that is rallycross and that is why all of us here at MagdaRX love it so much.  We never give up !.
Final countdown to Riga.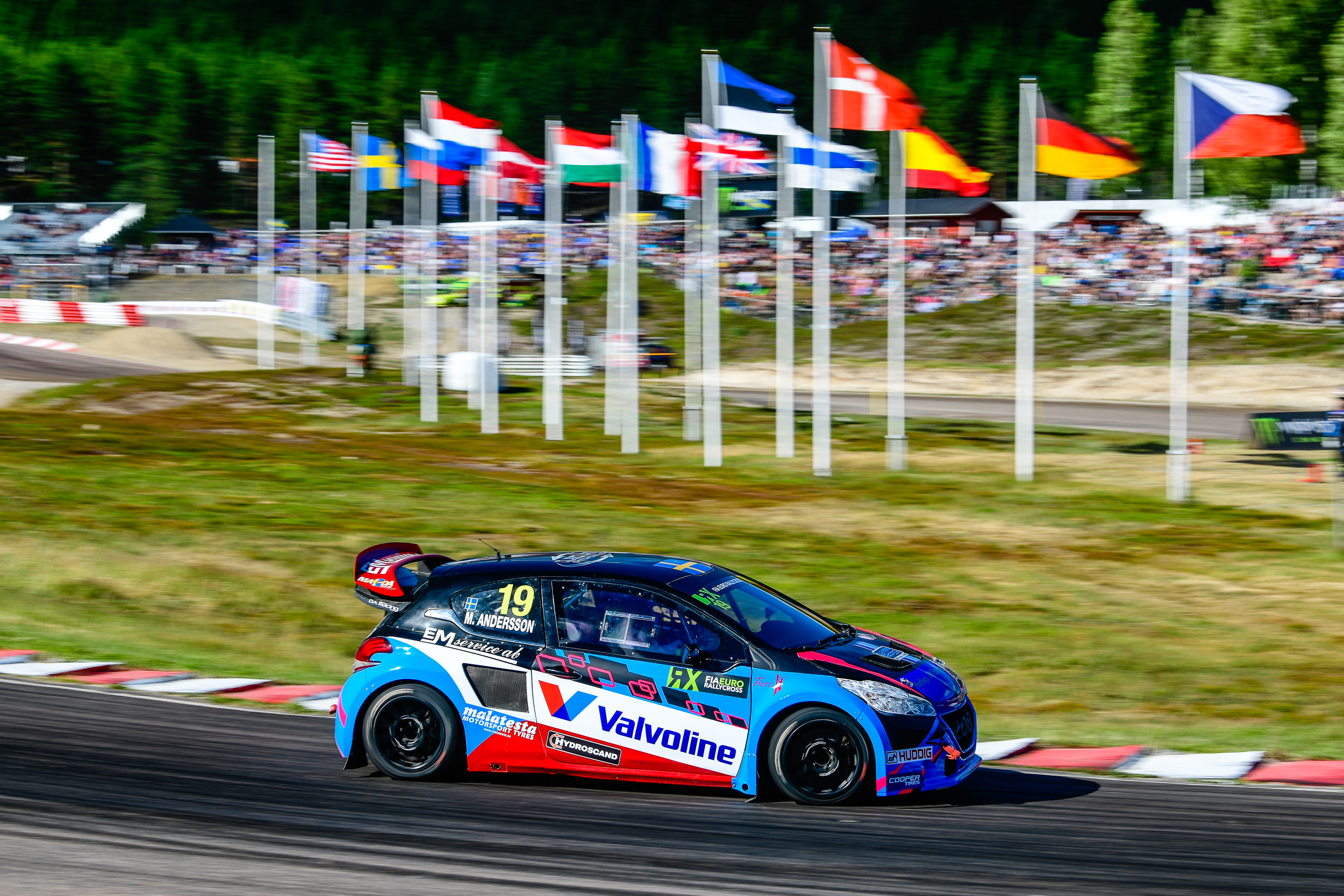 07.09.2018
Life here at MagdaRX can be just like waiting for a bus, nothing happens for an inordinate amount of time and then suddenly two of them arrive together. Having just dusted ourselves down from our sublime Loheac experience last weekend we have gone directly into preparations for the season finale of the FIA European Championship for SuperCars which takes place in the Latvian capital of Riga on September 15th  and 16th. next.The Bikernieki circuit is only twenty minutes distant from the city centre and is very much within metropolitan area which affords easy accessibility to the local fans who always support this event in huge numbers relative to the size of the country's population.
Magda is very familiar with the track having raced here since the event was included in the EuroRX calendar in 2016. Last year she drove her SuperCar here on two occasions once during the official test session and subsequently at last year's actual event. However the circuit is one that demands total focus as in the absence of any run off areas any deviation from track limits invariably ends in contact with the ubiquitous and unforgiving track side guard rails. Constructing the track inside the confines of an existing facility also brings it's compromises as the track winds, snake like around the complex demanding a very technical type of driving style which affords virtually no overtaking opportunities. Consequently achieving a good launch into the first corner is an essential prerequisite of obtaining a good lap time. It has been likened in the past to being the Monte Carlo of rallycross.
Magda has had mixed fortunes here in the past. Whilst contesting the Touring Car championship in 2016 she managed to successfully close the gap on the then series leader and put her title challenge very much back on track ahead of the Buxtehude finale of that year. In sharp contrast her first SuperCar event in Riga last year marked one of the low points of an otherwise very successful rookie year. Her car was plagued with technical issues throughout the weekend and some appalling track conditions meant her time in a subsequent heat was compromised also. However new year, new car and buoyed up by her superlative performance in France one week ago everyone at MagdaRX is looking forward to this final event of the championship year and meeting our many Latvian friends.
Magda collects her thoughts ahead of the event as follows. " Unbelievably Summer is over and with it yet another rallycross season reaches it's conclusion. I approach this event buoyed up by our Loheac performance. But I am under no illusions as I regard the Bikernieki circuit as one of the more challenging ones in the series. My driving style is more suited to an open, flowing type of track where I can develop a good rhythm. However my current race car, the Peugeot 208WRX, with it's transversely mounted powertrain, is ideally suited to such a technical circuit which places extreme demands on a car's ability to turn in confidently. That all makes it much easier for me to adapt my preferred driving style to a circuit that demands such respect. Given how comfortable I felt in the car last weekend I am really excited by the prospect of getting back behind the wheel again and out on track in Riga to experience just how my well my 208WRX handles this demanding venue. As always we are targeting a semi final placing and on the evidence of last weekend's performance that is an eminently achievable goal. It would also be nice to get some consistent weather conditions over both competitive days as setup demands are very much less onerous for the team when uniform conditions prevail. I have very fond memories of my race here in 2016 and the pivotal role that it played in my championship campaign of that year. I am especially looking forward to meeting and greeting my many Baltic based fans who have been so supportive of my efforts when competing here in the past. See you all in Riga ! ".
So please do drop by, say hello and pick up one of our autographed cards at the DA Racing pit area and follow Magda's weekend via her social media channels and check back here for our post race review.
Magda Magique !.

02.09.2018
Lohéac weekend was always going to be a very special occasion in Magda's year and none more so  than this year as she represents a leading French team on home soil.This fact was not lost on the most passionate of rallycross supporters that attend this event in their tens of thousands. The traditional start to the event is the Friday afternoon parade of drivers through the winding streets of this tiny village deep in the heart of Brittany in western France. Magda's presence was very much acknowledged by the crowds who thronged the narrow thoroughfares in a display of typically Gallic " bienvenue " as she was showered with greetings and even the odd floral tribute by some chivalrous and appreciative fans.
On track for Friday evening's free practice session Magda stated her intent here this weekend in emphatic fashion by posting the ninth fastest time of the session. To contextualise that feat it is pertinent to note that there was a capacity entry of thirty competitors in the class.Both car and driver were evidently working in perfect harmony from the start of the event which augured well for the first qualifying heats which would take place on what is a very long Saturday of action. The weather would also play it's part in preserving a proven race car setup throughout the entire event as the weather was set fair with warm temperatures and completely dry conditions prevailing. There would be an added challenge for Magda here as her regular engineer and spotter Marcus was not available owing to an unavoidable calendar clash with a family event. Retaining the services of the very experienced Marc Laboulle was to play a major role in the outcome of the event.
Drawn in race three of Q1 and in a centre grid position a good launch would be vital to successful get the weekend's action underway. Magda did not disappoint and despite some first corner carnage she once again skillfully avoided the worst excesses of the contact to assume second position and although her time was compromised by a second incident later in the same race at the joker lap entrance she still managed to post a semi final beckoning twelfth overall in Q1.With the long break between heats Magda once again assumed her role as a perfect ambassador for her sport and her team as she signed countless postcards and became one of the most popular " selfie " targets in the paddock. Her accessibility to her fans has always been part of her rallycross mission and her ever expanding French fan base were not shy in meeting their heroine.Saturday afternoon's Q2 proved a little less fraught than Q1 for Magda but her lightning fast reactions once again proved significant in avoiding contact and coupled with an excellent race strategy by her engineer and spotter saw her once again book a fine twelfth fastest overall. It is also worth noting that such was the pace of the Q2 heat that Magda had to really push her limits as she bettered the Q1 time by over five seconds !. Her consolidated, overnight, position of eleventh fastest was a just reward for her efforts and she also took team honours as the highest place driver going into Sunday's decisive last two heats.
Sunday morning's qualification round three started with the WRX cars and it soon became apparent that the effects of the overnight watering of the track, first experienced during the early morning warm up, had not improved resulting in many of the most experienced competitors having difficulty in the low grip conditions. Adopting a cautious approach Magda claimed third position in her heat but of more import elevated herself to eight in the overall standings after Q3.By the time she lined up on the grid for Q4 a combination of traffic and the early morning sun had dried the circuit comprehensively and now it was time to push. Right on cue Magda upped her performance in response to the enhanced track conditions and not for the first time this weekend skillfully negotiated her way around some more on track carnage to emerge as the winner of her heat and further improving her position in the final post qualification intermediate points table to a remarkable and SuperCar career best of seventh fastest.
Drawn in what looked more like a final race line up, rather than it's actual status of semi final number one, Magda lined up on row two just behind the eventual event winner Raymond, series leader Nitiss and alongside incumbent class champion Marklund. After some superlative driving, in such exalted company, she managed to retain her fourth position despite the close, unrelenting but always sporting attentions of Linneman together with keeping pace with the front runners.Although there would be no final participation here today but there has been a seismic improvement in performance in the couple of months since the Holjes event and that augurs well for the fast approaching season finale in Latvia in a fortnight's time.
Reflecting on her weekend's work a delighted and appreciative Magda commented." To summarise my feelings this evening after such an inspiring weekend would be to say that it has exceeded all of my own expectations. Coming from where we were at my home event to finishing here in eight place in the overall event standings is remarkable. It is also testament to the efforts of so many of my talented and committed team colleagues at DA Racing who provided me with the perfect setup for this track. To compete at this level of competition and to lead such a prestigious French team's effort at their home event has been truly the stuff of dreams for me in the birth place of French rallycross. I would also like to gratefully acknowledge the consummate professionalism and support of my engineer and spotter here this weekend in the form of the superlatively talented and experienced  Marc LABOULLE. The trust between a driver and their spotter is an essential prerequisite of success in rallycross and having Marc's input was hugely instrumental in the outcome we achieved at this event. Also huge thanks to the vociferous and passionate French fans who made me feel so welcome in their country throughout the event. I can now look forward with increased confidence to our next race in Riga in a mere two week's time ".
There was a very strong family theme this weekend as Magda celebrated her successes in France in a family run team her own family back home in Sweden had also cause for celebration as our sister team, in every sense of that word, KlaraRX completed their season with a fine sixth position in the overall series at their first attempt contesting the Swedish Junior Rallycross championship which concluded this weekend in Kalix. Stor Grattis Klara !.
Allez Lohéac !.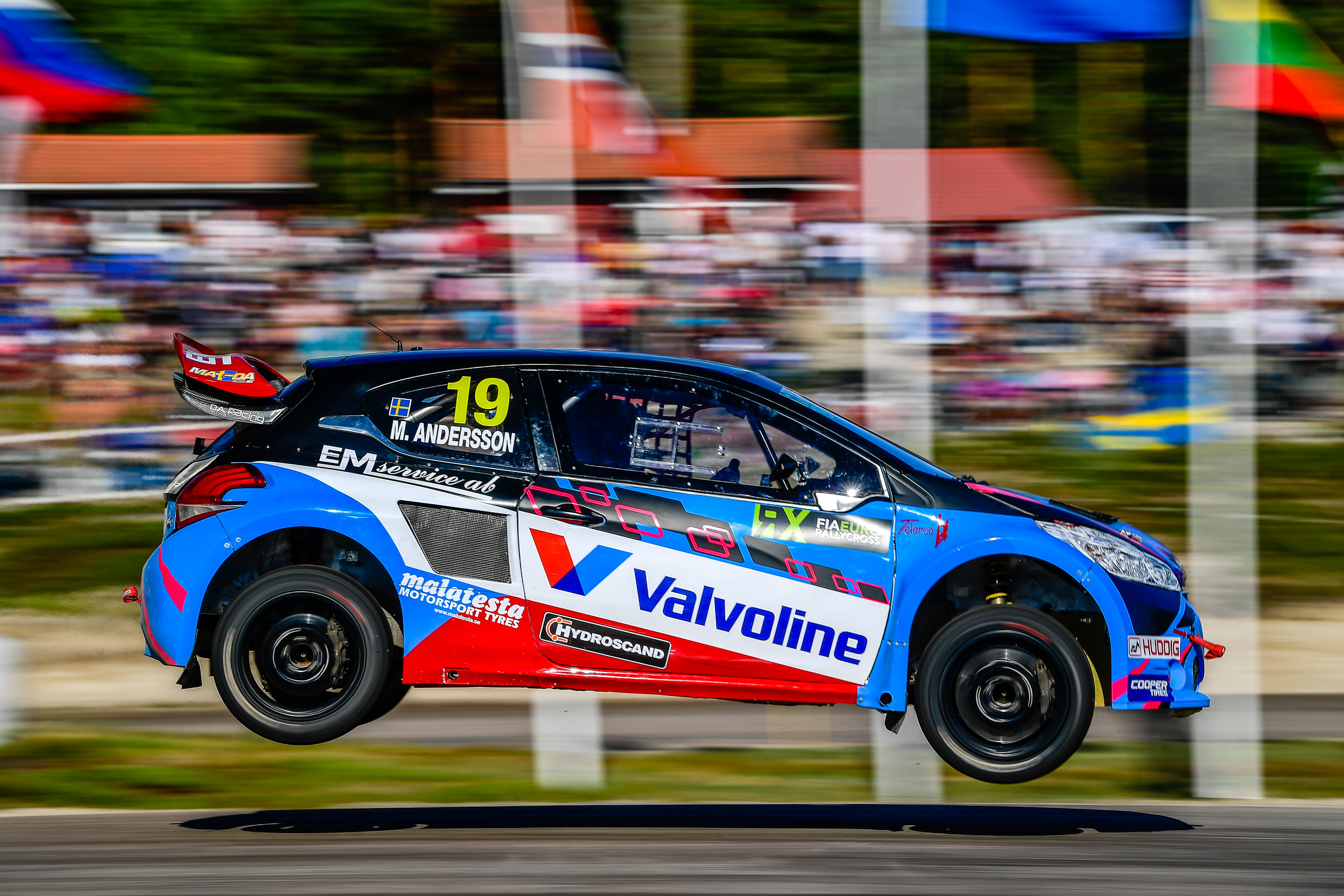 24.08.2018
Next to our home event at Höljes next weekend's fourth round of the FIA European Rallycross Championship for SuperCars at Lohéac is always a firm favourite here at MagdaRX.
Obviously with the distinctly Gallic theme of our year following the announcement of Magda's participation in this year's competition with DA Racing next weekend's visit to the home of French rallycross has a particular resonance within our team. Being born on Bastille day only serves to heighten Magda's Francophile credentials.Renowned for it's free flowing and fast track together with the passion of the local fans who descend on this tiny Breton village in their tens of thousands this truly is the French version of " Fin du semaine magique ".Doubtless owing to the increased participation of French drivers at both the WRX and ERX level, with three and six regular competitors respectively, the sport has never been as popular in France.
Following a splendid Swedish summer break everyone at MagdaRX is eagerly looking forward to once again threading the hollowed turf of this veritable cathedral of French rallycross. Keen to put behind us the very obvious disappointment of the outcome of our home round we are approaching this latest event of the series with renewed vigour and determination. Buoyed up by the legacy of last year's outing here which seen Magda post the best performance of her rookie SuperCar year attaining an overall ninth, post qualification, standing including a sensational fourth fastest in Q2. Missing out on her first final participation by just one placing this is a circuit where Magda's smooth, flowing and fast driving style is complimented by a track she knows and loves. DA Racing's engineers are also very conversant with the demands of this venue and together with their familiarity of Magda's setup preferences this promises to be a weekend where we know we can be competitive in this closely contested class.
Magda takes up the preview in her own words thus. " Lohéac really is my home away from home venue of choice. I have very fond memories of my 2017 event there and not just because of my racing success but the entire ambience of the event was so special. The warmth of the welcome by some of the most enthusiastic rallycross fans anywhere together with the sheer numbers of spectators bore testament to the enduring popularity of the sport in this part of western France.To compete here this year as part of a French team, with DA Racing, takes my anticipation of the event to a whole new level. I have had a wonderfully relaxing Summer break and I have returned to race mode with renewed drive and determination to be the best at what I do. Whilst I cannot disguise my disappointment at how my home event transpired I am equally determined not to let that result define my 2018 campaign. Together with my colleagues at DA Racing we have addressed many of the issues that gave rise to the challenges that we faced in Sweden. Coupled with my love of this circuit and my increasing familiarity with this amazing Peugeot 208 race car I am really looking forward to raising some Breton dust next weekend. As always I will be targeting a semi final placing and I know that despite the level of competition in the class that is an eminently  realisable aspiration as I proved there last season. Off the track I am keen to once again experience the unique welcome of the French race fans by meeting as many fans, old and new, as possible over the weekend. "
As Magda said we look forward to seeing all of our French friends next weekend, as always do drop by our paddock area and say hello. Stay in touch with our social media updates throughout the event and check back here for our post even race report.
Swedish girls on track.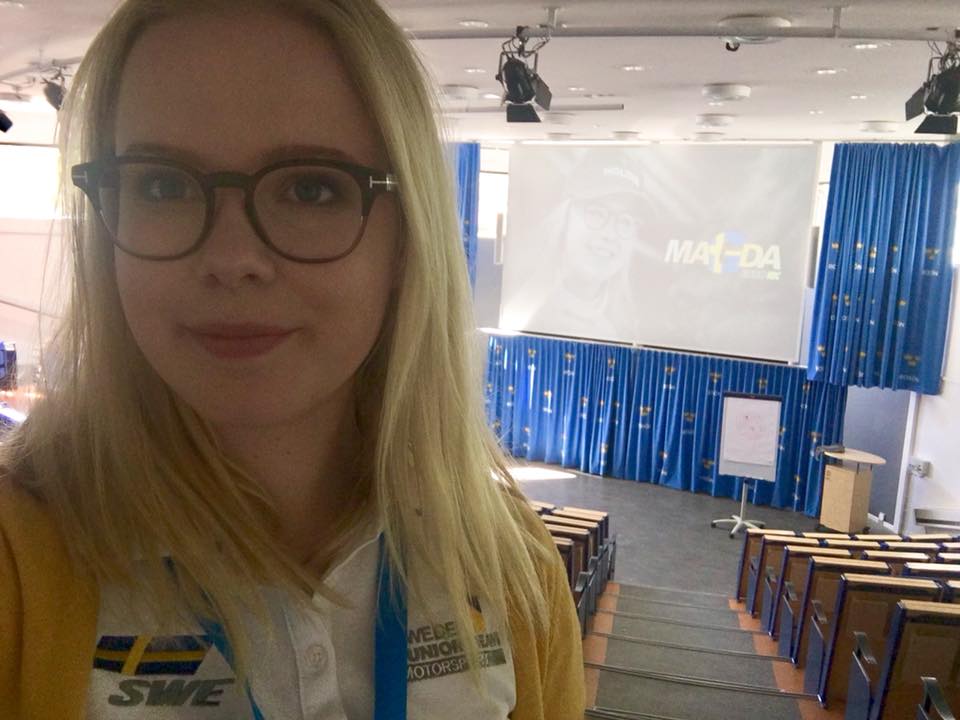 11.08.2018
SBF's ( Swedish Motorsport Federation ) latest " Girls Camp " took place at their national training facility at Boson over the weekend of June 9/10th. last.  The now annual event invites girls and young women who have aspirations of becoming motor sport competitors to a two day event that provides a detailed overview of the opportunities and challenges inherent in participating in a competitive sport. This year's capacity attendance totaling fifty young women eager to broaden their appreciation of all things motorsport.To lend authenticity to the weekend the organizers leverage the real life experiences of mentors to share their own personal journeys with the participants. For the third year in a row Magda was once again engaged to act as one of the leaders. Despite the fact that she is very often younger than some of the attendees Magda brings a decade of competition experience both at domestic and international level to the event.
This year's Camp coincides with an innovative initiative by the FIA titled " Girls on Track ". An international competition is underway in eight European countries, including here in Sweden, to select three girls from each country who will go forward to the finals which will be held in Le Mans in March 2019. Six candidates will then be selected to participate in an FIA training camp.Each selection event will take the same format of a karting slalom test which is open to all girls aged between 13 and 18 years. There will also be an emphasis on promoting a general awareness of the opportunities that exist in the motor sport space together with imparting a strong road safety message. The initiative is co funded under the European Communities Erasmus programme.The final Swedish national selection event will take place in Malmö on September 8th and 9th next .
Commenting on her leadership role Magda said. " Once again it was an honour to be invited to act in the role of leader at the latest " Girls Camp " event. I am very gratified that there is a momentum gathering pace to actively address the issue of gender equality in motorsport. The SBF's pioneering initiative in tandem with Sweden's participation in the FIA promoted  " Girls on Track " program affords my female compatriots some very accessible portals to furthering their motor sport aspirations. We are very fortunate to live in a country which is so proactive in the promotion of gender equality initiatives such as these. I thoroughly enjoyed the weekend itself and the enthusiasm displayed by the participants. I hope that they will be inspired to commence or in the case of those already participating to continue their motorsport journeys in the knowledge that they have the full support of such an enlightened body as the SBF. Finally I would like to commend the dedication and commitment of the event coordinator, Magnus Lampert, and everyone at the SBF for yet again making the weekend such a resounding success ".
Here at MagdaRX we did have to search too far from home to garner a reaction to the event from the perspective of one of the participants. " Thanks for, yet again, an awesome camp! Leaving Bosön with some more experience and wisdom " So said Magda's sister Klara who was evidently enthused by her second " Girls Camp " experience.
To find out more about both the SBF and the FIA's " Girls on Track " please use the links hereunder.
http://www.fia.com/TheGirlsOnTrack
To Magda with XX
Photograph by Henric Wollmér-Persson.
July 14th. 2018
Here at MagdaRX July is one of our favourite months starting as it does with the iconic Magic weekend of Höljes, our glorious Swedish Summer is in full flight and everyone is in holiday mode.
Today July 14th. is the day that we celebrate Magda's birthday and this year we have even more reason to mark her special day with a milestone birthday as Magda enters her twenties or as we say in Sweden – Grattis på födelsedagen kära Magda !.
Choosing, as she did, to make her entry into the world on Bastille Day it is somehow entirely fitting that this season Magda should be part of a French racing team.
Consequently today is a double celebration at MagdaRX as we remember our friends the Dubourg family and all of our colleagues at DA Racing as they mark their " fête nationale " , we wish them " Bonne fête nous amies ".
But most of all today is Magda's day and right now we have some partying to do, have a great Summer and we look forward to seeing you all at Loheac in September.
The highs and lows of Höljes.
Mid Summer in Western Sweden means that its time for the annual Magic Weekend as Höljes plays host to the third round of the FIA European Championship for Supercars . With pretty much wall to wall sunshine and temperatures in the mid to high twenties transforming this most classic of rallycross circuits into a cauldron of competition and particularly so in our EuroRX SuperCar class which boasted a capacity entry of 30 cars. Add in yet another new record breaking spectator attendance figure of over 50,000 and the scene was set for our much anticipated home event.
Literally by the luck of the draw, which randomly selects the start positions for the Q1 grids, Magda would, by virtue of her P1 placing in race one, have the honour of being the first SuperCar to start her home event. Expectations were heightened by a good free practice session performance.However in actual race conditions on Saturday some significant shortcomings in the car's setup manifested themselves and despite Magda's best efforts at the wheel that vital confidence to push the performance envelope to the limit as demanded by this hyper competitive class was absent.An overnight classification of P17 would prove problematic heading into the vital Sunday heats as evidenced by Q3's first corner carnage, which although skilfully negotiated by Magda, still deprived her of the opportunity to set the kind of lap time that was vital to book a passage into the semi finals. But at least the car felt better composed and closer to where it needed to be from a race set up perspective. To avoid getting held up by traffic in Q4 Magda was called into her joker deviation on lap two only to be impacted by another competitor at the joker lap and main track confluence section, the other driver subsequently receiving a 15 second time penalty for his part in the incident. However the resulting time loss suffered by Magda would scupper any home event semi final participation on this occasion. As if to prove the adage " When the going gets tough the tough get going "  Magda quickly composed herself and went on to post her fastest lap time, under race conditions, of the entire weekend on lap three of the same heat. Thereby concluding a most challenging event with yet another demonstration of her determination and talent irrespective of the circumstance.
Regrettably Magda's weekend of woes was not confined to the race track. An uncharacteristic error by the team whereby an official FIA mandated engine seal was replaced before the event and thereby exceeded the season maximum allowance of two seals. This resulted in the imposition of a 15 championship point penalty on the luckless young Skåne woman. Whilst completely beyond Magda's control she paid a very heavy price indeed. DA Racing has accepted full responsibility for the incident and reviewed it's prerace preparation management procedures accordingly.
Reflecting on what proved to be an eventful weekend, Magda said.
" I had been really looking forward to driving this incredible race car on one of my favourite tracks in front of my home crowd. Whilst there will always be some fine tuning required in order to optimise performance, not having a set up that I felt sufficiently  comfortable with to push to the extent that I knew would be required of me until Sunday morning really presented me with a mountain to climb to reach my goal of reaching the semi finals. I felt very good as Sunday dawned and the team's overnight work appeared to be working as following another incremental performance improvement in Q3 I was now classified as P14 with a semi final place looming large in my cross hairs. Unfortunately fate had other plans and whilst we try to mandate for most scenarios in our race strategy getting punted off the circuit is not something that one anticipates. However determined not to let the incident define what was otherwise a weekend where I had made a great deal of progress in exploiting the potential of this amazing car, I went on to post my fastest race lap of the weekend thereby ending one of the highlights of my motor sport year on a positive note and looking forward, with renewed vigour, to our next outing at the home of French rallycross in Loheac, another iconic venue that I love. Or so I thought until the penalty point bombshell came hurtling in my direction. Although completely out of my personal control, I obviously completely accept and respect the decision of the officials who have to uphold the regulations. Equally I accept the team's apologies and look forward to redoubling all of efforts as we head into the final two rounds of the series this Autumn. I especially appreciate the wonderful outpouring of support from my family, friends, fans, commercial partners and everyone at DA Racing throughout this most difficult of weekends and to offer my congratulations to my team mate Andrea on his qualifying for yet another semi final.Have a fun Summer everyone  and be assured that we will be back stronger, wiser and more determined than ever at Loheac and Riga ".
As we said at the outset Summer is a wonderful time and all of us here at MagdaRX would like to remind everyone of the FIA's road safety message to exercise care and consideration for your fellow road users when driving during this holiday season, stay safe and enjoy.
Flying the flag – Höljes preview.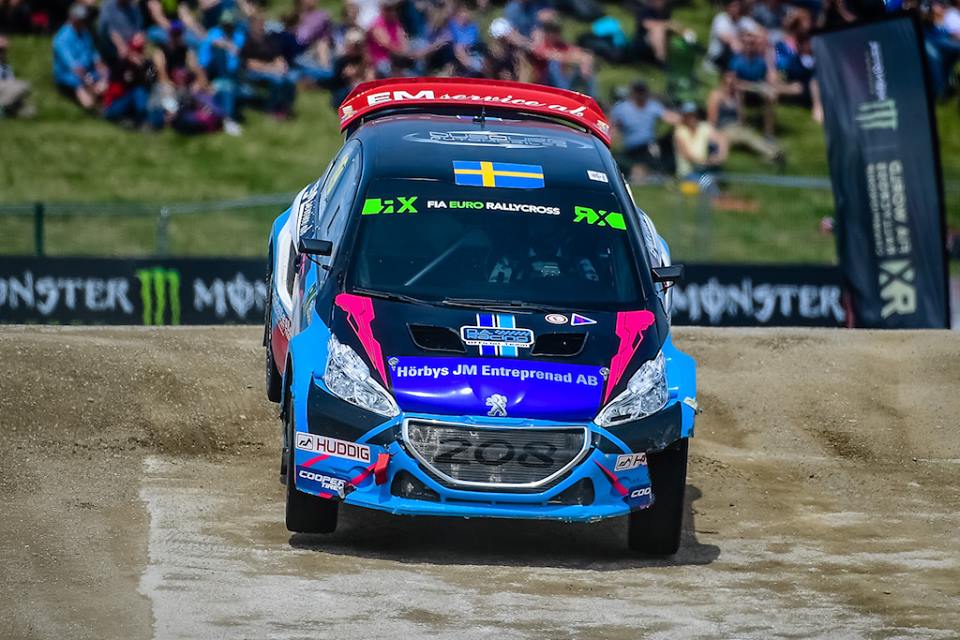 June 22nd. 2018
Scandinavia is looking resplendent in it's Summer hues, the woods and lakelands have reawakened following a particularly long, cold Winter. Deep in the aptly named Värmland county of Western Sweden lies the normally serene tiny village of Höljes however over one weekend in mid Summer this little settlement, on the banks of the Klarälven river, undergoes a dramatic transformation as the World and European rallycross circus rolls into town. Aside from the teams and their various entourages the venue hosts in excess of 30,000 fans over race weekend.
Widely regarded as being one of the slickest organized events in the calendar the host club, Finnskoga Motorklubb, consistently exceeds the expectations of competitors and the spectating public alike. The fast, flowing circuit is a firm favourite with drivers and the atmosphere created by the passionate and knowledgeable fans make for a heady and highly entertaining spectacle. Höljes transcends it's status as just  a motor sport event, here in Sweden it is pretty much regarded as a contemporary cultural phenomena .
Whilst all championship rounds have their own particular charms and memories for Magda bringing it all home to Höljes holds a very special affinity with her.
" To complete in the EuroRX competition for SuperCars at my home event is truly the stuff that dreams are made of. Since having driven the stunning Peugeot 208 for the first time at the previous round of the series in Mettet I have eagerly looked forward to my first lap of Höljes at the wheel of this incredible race car. This will be the first opportunity to race on a circuit where I already have Supercar experience. Added to the fact that it is the most accessible round for family, friends and my commercial partners, without whose on going support none of this would be possible, only adds to the unique ambiance that is the Höljes weekend. There is obviously tremendous pride in knowing that my home round is universally regarded as being one of the highlights of so many people's year. Glancing at the bumper  entries in every class including a capacity one in my own SuperCar one, only serves to confirm the enduring status of this event. As always I maintain my customary cautious approach to a race weekend but my target is to qualify in the top twelve in order to progress through to the semi finals. Having already achieved semi final participation here last year I know that I have the race car and the skillset to make my aspiration a reality. I am particularly looking forward to rolling out the warmest Swedish welcome to all my French team colleagues at DA Racing, this neck of my woods is not called Värmland for nothing !.Finally I extend a huge welcome to all my fans, old and new, and assure them that their enthusiastic and vocal support here is always both encouraging and very much appreciated. Do drop by our pit area and say hello. Let the magic begin !. "
So commented an excited and anticipatory Magda of her home event which takes place over the weekend of June 30th. to July 1st. See you all there.
Partnership Ambassador
Photograph courtesy of Huddig AB.
 June 8th. 2018
The busy life of a rallycross driver is not merely confined to race weekends.
One of the prerequisites of participation in any form of rallycross is the availability of an adequate budget. Racing is an exceedingly expensive business and to assemble the best possible package of car and team resources does not come cheaply.
Few if any individuals can self fund such a campaign so consequently the support of generous commercial partners is essential to anyone contemplating a rallycross championship challenge.
At MagdaRX we are only too aware of the vital contribution our loyal band of partners have and continue to play in the evolution of the team from our time in the entry level  JRX class right up to our contesting today's premier class of the EuroRX. They are quite simply the enablers of our ambitions.
Magda has always worked tirelessly to ensure that there is equity and reciprocation in these commercial relationships. There must be a tangible return on investment for the partner and part of Magda's off track life is lending her support to her team's benefactors by way of attending their special occasions from product launches  to press and open days. Given that most of her commercial backers have been lending their support for over a decade speaks volumes for just how effective her nurturing of these relationships has been.
Typical of that ethos was her recent attendance at Svenska Maskinmassan 2018 , Sweden's annual, national Machinery Exhibition held at Solvalla near Stockholm. Appearing at the stand of her long term supporter Huddig, a Swedish based manufacturer of specialist articulated loading shovel / excavators, to help celebrate the launch of their innovative Tigon range of hybrid powered machines for the construction and related industries.
Magda addressed the assembled audience of company management, clients and press to relate her own experiences of establishing herself as one of the youngest ever competitors in the SuperCar class and the pivotal role that companies such as her host's Huddig have played in her evolution as a driver. Also part of her presentation was a briefing on the general principles of the sport of rallycross and just how remarkably it has evolved in parallel to her own development as a competitor.
Commenting on this part of her racing life Magda said. " The establishment of sound commercial partnerships has been one of the cornerstones of my rallycross career. I am hugely indebted to my partners and I take every opportunity to lend my support to promoting their businesses.Huddig is an excellent case study in this regard and to be invited to be part of the launch of such an innovative piece of cutting edge Swedish technology is both tremendously rewarding and gratifying. Aligning my own brand with such a leading industry actor is precisely the type of synergy that I have tried to develop through my participation at such events. It also affords me yet another platform to promote the sport of rallycross to a wider audience hence I regard these opportunities as virtuous circles for all of the parties involved ".
Remember by supporting our partner companies you are, in a very tangible way, supporting the sport.
To learn more about our partners please visit our partner page and click on the hyperlinks.
Magda's Mettet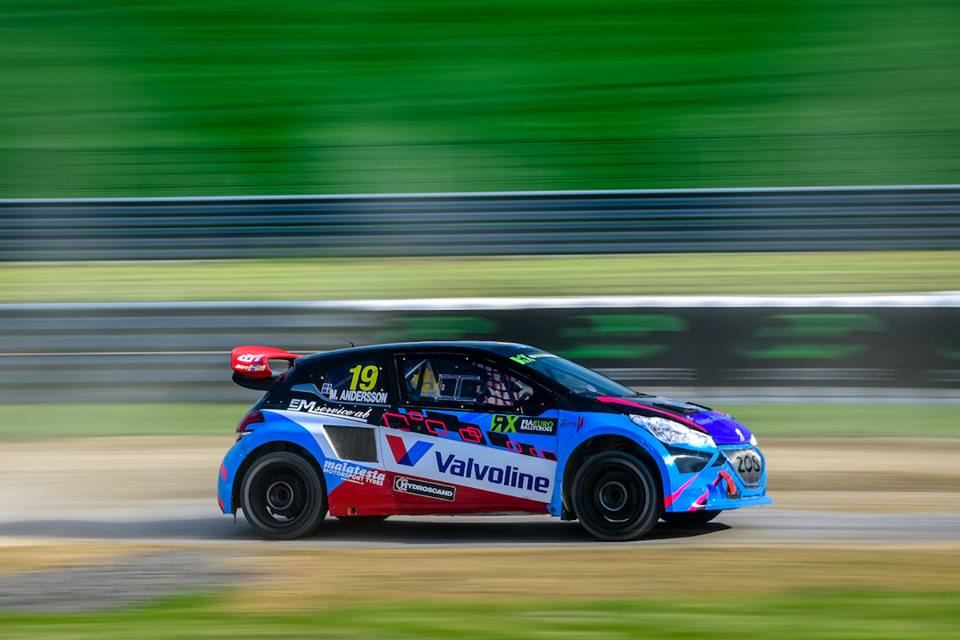 May 13th. 2018
Magda returned to the little southern Belgium town of Mettet with a bundle of happy memories of her last visit here in 2016 when she claimed top spot of the weekend driving her Fiesta Touring Car.Clearly that feat remains strong in the folk memory of the local rallycross fraternity as even on her track walk around on Thursday she was recognised and loudly greeted by the locals.
But the dynamics of driving an almost 600hp SuperCar around this circuit requires another skill set entirely from that employed in a rear wheel only driven Touring Car and having only sat in her new car on Monday last for the first time, for some practice laps, it speaks volumes  for Magda talent and versatility as driver that she was placed third in her heat in Q1 with a very respectable thirteenth fastest time in the entire session which was held in dry but slightly dusty conditions.Q2 was more challenging as her fellow heat participants became involved in a post launch tangle she skillfully avoided contact but the necessary evasive manoeuvres cost her precious time in reaching the first corner. Fully composed, she set about making the most of the heat and with a superbly executed race strategy she crossed the line in second place.In the round Saturday's performance proved an excellent entre to her 2018 race season with a new car and a new team.
Overnight the Summer like weather that prevailed during Saturday gave way to cold, damp conditions for Sunday which demanded some entirely different setups and driving styles. Although never having driven the Peugeot previously in damp conditions Magda ably rose to the challenge and produced another excellent drive perfectly measured to the prevailing track conditions to win her heat in Q3. Repeating that approach in Q4 as track conditions deteriorated further she posted a superb fifteenth place in the overall, consolidated points rankings after qualification.
Although semi final participation was not to be for Magda here this weekend her first event with a new car and a new team provided an excellent harbinger for the remaining races of the series.
Reflecting on her first race of 2018 Magda commented. " Overall I take so many positives from this weekend. With so little seat time in the car it has been a huge learning curve for myself and my team colleagues who have proven consummate professionals throughout. This has been my first experience of driving a car with a transversely mounted powertrain and the weight distribution provides a completely different driving dynamic particularly in the wildly varying weather conditions that we experienced over the weekend. But in many ways it accords very well with my own driving style and as I learn to adjust my control inputs I can already see where I can further improve my performance in the coming events which will all take place on circuits where I have previously driven a SuperCar. My aim is always semi final participation and although that eluded me here this weekend I know that it is a very attainable goal. I would like to pay a particular tribute to everyone at DA Racing not only for their professionalism but also for the genuinely warm welcome and attention that they lavished on me throughout the entire event. It is such a pleasure to work with you guys !. Once again I have to send out  a huge thank you to all of the fans that have been so kind and supportive of my efforts here over the weekend and that experience only adds to my very obvious joy of competing here in Belgium ".
Bonjour Mettet.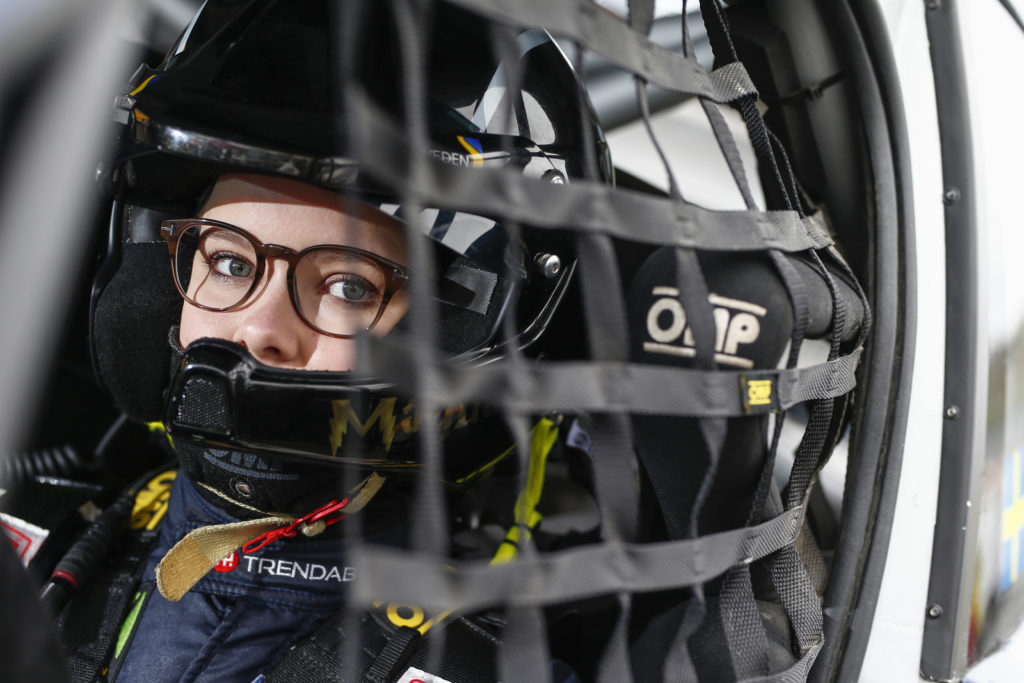 May 5th. 2018
Magda is preparing to head south to raise the curtain on her 2018 SuperCar season as the series marks it's return to the southern Belgium town of Mettet, which hosts round two of the Euro RX competition over the weekend of May 12th. to 13th.
Following a fraught off season of trying to assemble a package to continue on her SuperCar journey, Magda is enthused to be joining with her new team at DA Racing and to take the wheel of her Peugeot 208WRX challenger.
Memories of Magda's last visit to Circuit Jules Tacheny  are very much to the forefront of her thoughts as she embarks on this latest exciting step on her rallycross quest. In 2016 when competing in her Magda Motor's run Ford Fiesta in the FIA European Championship for Touring Cars she drove what arguably was one of the greatest races of her career as she blitzed the opposition to lock out the top spot of the podium after a challenging weekend following  a major off in Q2. Becoming the first Swedish woman ever to claim outright victory in an FIA sanctioned European rallycross event.This year she will again be at the vanguard of female participation in rallycross's premier series as the sole representative of her gender. But as Magda herself would say she is first and foremost a driver who just happens to be a young woman.This season will be all about leveraging the experience gleaned from her maiden SuperCar season in 2017 when she finished at mid spot in the overall championship rankings at her first attempt.  Having already sampled semi final participation last season, Magda's focus this year is clearly to continue on that upward trajectory.
Setting the scene in her own words, Magda adds . " To be finally looking forward to my first race of the season is a super exciting prospect. I am hugely enthused to be partnering with the Dubourg family and their DA Racing team which adds an essential international dimension to my racing career. It is a great privilege to work with another team that share my passion for my sport of choice. It is perhaps fitting to begin our partnership at a Francophone venue where I have always enjoyed an enthusiastic reception from the Belgium fans. I am eagerly looking forward to meeting you all there, so please do drop by my pit area and say hello".
Magda says Oui to 2018.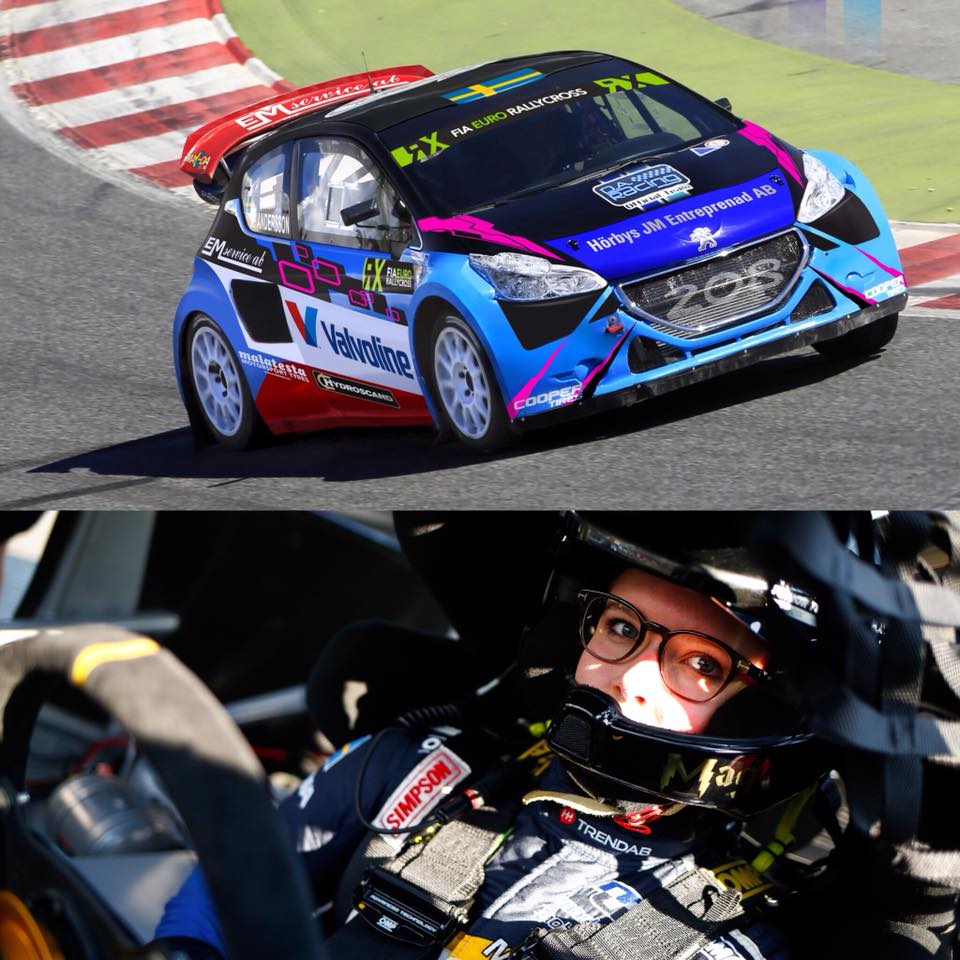 April 18th. 2018
This year Magda will contest the FIA European Championship for SuperCars  driving a D.A. Racing Peugeot 208 based entry. Heralding a perfect synergy of Gallic motorsport passion and Swedish racing cool.
Although still only nineteen years old this will be her second  season competing in the premier class of European rallycross. Building on her formative SuperCar debut last season Magda is delighted to continue pursuing her dream of driving one of these amazing racing machines as the sole female competitor at this level of the sport.
Commenting on her plans for 2018 Magda said " I am so excited to be finally able to announce my intention to contest this year's FIA European Rallycross Championship for SuperCars. It has been a huge challenge to assemble such a competitive platform to continue my rallycross journey in the  SuperCar class. The opportunity to partner with such an experienced team and a car with world class credentials is a truly significant development in furthering my ambition to reach the highest echelons of this, my sport of choice. Working with a French based team, who share the same passion as I do for rallycross, also provides an essential  international dimension to my development as a race car driver. I am once again indebted to my family and commercial partners  whose generous  support  makes my participation at this level of the sport possible. I am particularly looking forward to meeting and greeting my ever expanding support base throughout Europe so please do drop by and say hello ".
The 2018 series takes place over five rounds at the following venues.
Spain, Barcelona Circuit de Catalunya April 14-15.
Belgium, Mettet Circuit Jules Tacheny  May 12-13.
Sweden, Holjes Motorstadion June 30-July 1.
France, Loheac September 1-2.
Latvia, Riga Bikernieki stadium September 15-16.
Detailed circuit and event information can be found here www.fiaworldrallycross.com/calendar
Do come out and support Magda at any of the aforementioned events or follow her progress through her social media channels and by regular news updates posted here.
Best of the best.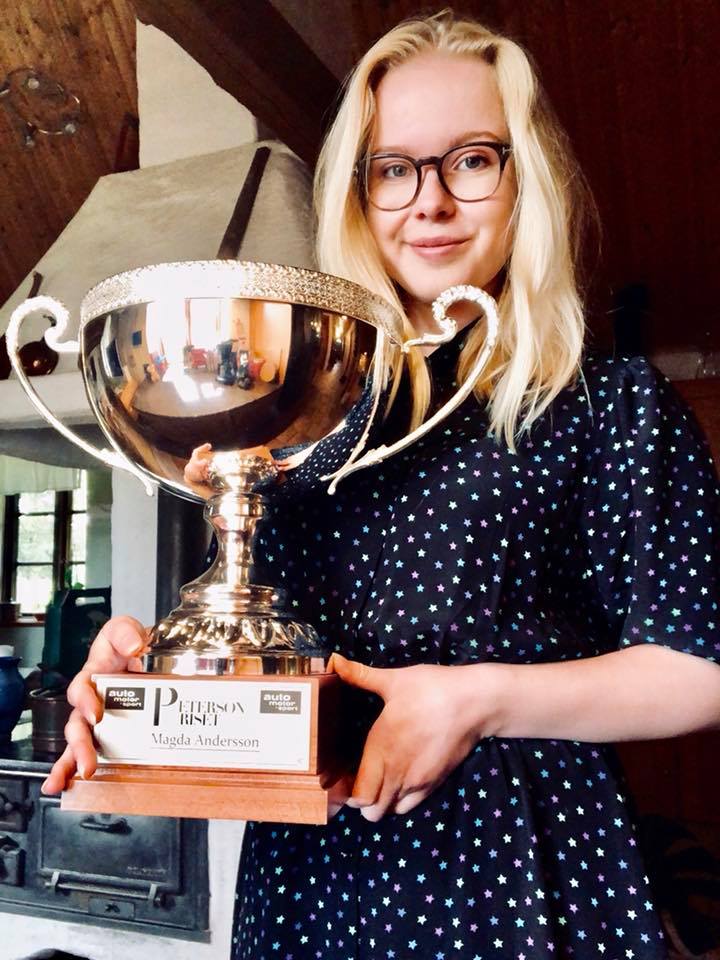 March 17th. 2018
This week brought the news that Magda was to be the recipient of yet another prestigious award.
The Swedish publication, Auto Motor & Sport, this year initiated the Ronnie Peterson award to honour Swedish competitors who make an outstanding contribution to motor sport.
The eponymous award is a one of motor sport's most democratic awards as it's destination  is decided by the direct votes of the magazine's readership.
Nominated in the " Best Woman " category in recognition of her ascent through the ranks of her chosen genre of motor sport, culminating in her competing in the sport's SuperCar class, the young Skanian was victorious when the votes were counted.
Reflecting on her latest award a grateful and excited Magda said " I am deeply humbled by this tremendous honour. Being associated with the iconic Peterson name is truly the stuff of dreams. Not only was Ronnie Peterson one of Sweden's most talented drivers but he is also one of our most revered folk heroes.Another incredibly gratifying feature of this award is the fact that it's recipient is decided by the votes of you the ordinary fans of motor sport. Huge thanks to one and all who took the time to cast their votes in my favour ".
International Womens' Day Greetings.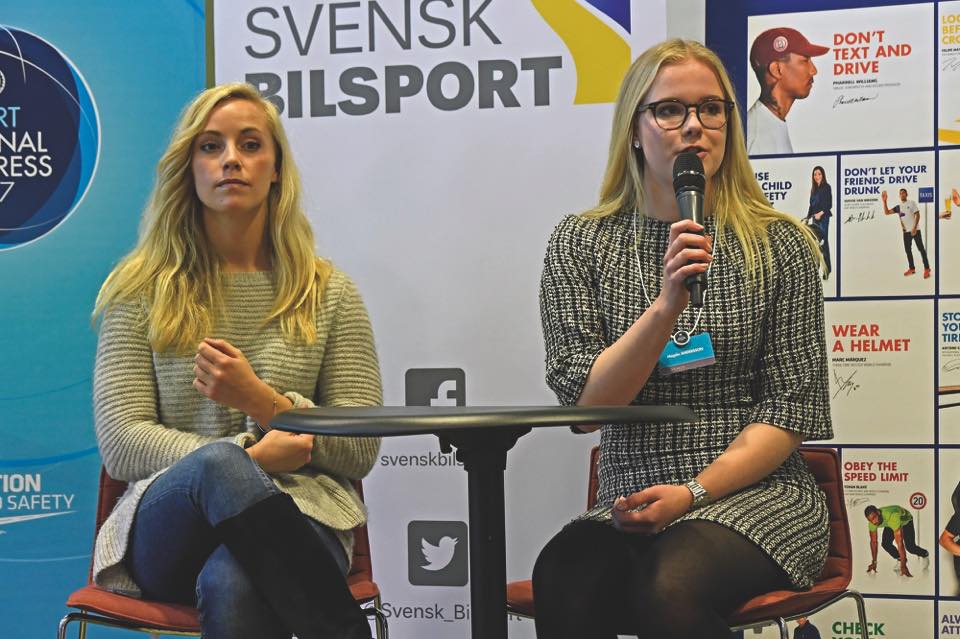 We too – Mikaela and Magda effecting change by educating and inspiring.
March 8th. 2018
As we mark International Womens' Day today we reflect on the efforts that Magda has been making both on and increasingly off the track in the promotion of gender equality in motor sport.
Having risen through the ranks of rallycross ultimately competing in the premier SuperCar class of the FIA European Rallycross Championship Magda is well placed to inspire and encourage other young women to follow their dream.
Recent initiatives have included addressing the subject at the FIA Regional Congress which took place in Stockholm in October last. Sharing the podium with fellow Swedish gender mould breaker  Mikaela Ahlin-Kottulinsky both speakers fielded a Q and A session from a diverse demographic of congress attendees concerning the particular challenges faced by young women as they progress through the ranks of motor sport competition.
The inspirational duo teamed up once again in December last to assume  their roles as leaders of the now annual " Girl's Camp " a laudable and progressive initiative of the SBF which brings together  young women who share a passion for motor sport and wish to progress their careers in the industry.
We wish you all an inspired and celebratory International Womens' Day  – continue to follow your dreams.
Season's Greetings – from our family to yours.
Photograph by Chicogocam.
Skåne seasonal splendour.
24.12.2017
Once again it is that time of year to reflect, give thanks and look forward to new adventures in 2018.
2017 has been a truly transformative year for Magda fulfilling a long held dream of competing in the premiership of European Rallycross driving a Marklund Motorsport prepared Volkwagen Polo Mark 5 SuperCar.  Her off track life was no less hectic as she graduated with first class honours from her International Baccalaureate Programme course of study.
" It has been certainly been a watershed year for me in so many facets of my life. As always there are so many people to thank from my family, friends and team members to my commercial partners and of course you my fans who have been so supportive and encouraging in what was a challenging but ultimately an enormously satisfying and developmental year. I wish everyone in the rallycross community and beyond all the compliments of this magical season and I look forward to seeing you all in 2018 "
So commented a very festive Magda.
Sister Act.
Photograph by Tommy Svensson
16.12.2017
Despite the fact that Magda is only nineteen years old she has already amassed a decade's long experience in motor sport. Combined with the fact that her relative youth is so closely aligned to the demographic of the aspirant young ladies that are the target group of SBF's ( Swedish Motorsport Federation ) annual " Girls' Camp " weekend made Magda a natural choice when the event's promoters' were seeking leaders for this year's gathering which took place over the weekend of December 2nd. /3rd. last.
Hosted by the SBF's centre of excellence at Bosön located in the greater Stockholm area the event was once again very well attended by young  women from a wide variety of motor sport disciplines and none. All of them had one thing in common that being a passion for motor sport and the ambition to further their dreams.
Not only would the Andersson family be represented at leadership level in Bosön but the youngest member of the family, Klara, would also be a participant. Klara is a familiar figure in rallycross paddocks as she has been one of Magda's support team for many years.  What many people may not realise is that she is also a very accomplished competitor in her own right and the recipient of many karting awards over the years. In 2018 she will switch discipline and follow in the tyre tracks of both her parents and older sister as she embarks on her first full season of rallycross in Sweden's SBF Junior Class where she will drive a brand new BMW120i series based challenger designed, constructed and run by her own Klara Andersson Racing Team.
The Girl's Camp concept is an innovative SBF initiative to ensure that Sweden is at the forefront of the sport's  global governing body FIA's stated objective of providing pathways to encourage and support increased female participation in motor sport.The weekend's activities span a wide variety of topics ranging from technical skills, physical and psychological training, to nutrition, media skills and marketing.  Having leader's of the  experience and calibre of Mikaela Ahlin-Kottulinsky and Magda is a tremendously motivating factor for the participants. Magda led modules on imparting technical driving skills using the facility's high tech simulator running Codemaster's Dirt4 software amongst others. Later switching to a more class room like setting for Magda's next area of expertise  where she shared her experience of developing and retaining the types of commercial partnerships that provide the means to pursue motor sport participation at the highest level.
" Being chosen as a leader once again was a tremendously satisfying experience and afforded me another opportunity to further my own goal of leveraging my experience to promote my sport of choice to an eager audience of tomorrow's participants. " Said an enthused Magda.
Klara too thoroughly enjoyed her Bosön weekend's participation. " It was such an interesting, educational and motivational event which has only heightened my appetite for 2018 and my first rallycross event ".
   Hear this – providing a local perspective on global issues.
07.12.2017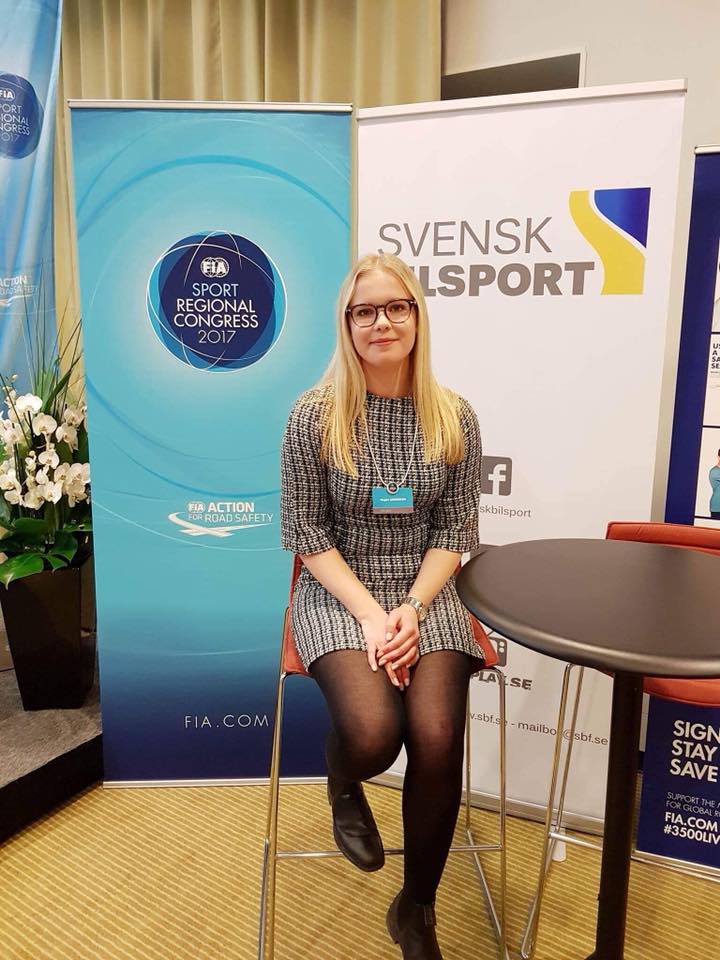 Pursuant to her ambition in promoting the development of motor sport both on and off the track Magda was recently invited to participate in the FIA, motorsport's global governing body, Regional Congress which took place in Stockholm on October 26th. to 28th. last.
Hosted by the Swedish national motor sport administration SBF the congress was opened by FIA president Jean Todt.
Magda took part in one of the Congress's plenary sessions which concentrated on garnering the views of some of motor sport's emerging talent pool as to the relationship between the grassroots and the elite echelons together with exploring pathways to the future development of motor sport.
Sharing a podium with compatriot Mikaela Ahlin-Kottulinsky Magda fielded questions on a diverse range of topics ranging from her experiences as a long term member of the Swedish National Team to what measures she feels the FIA could take to encourage the development of female drivers.
Drawing on her own experience of progressing from a local kart racing series to this year competing in Rallycross's premier European SuperCar competition Magda instanced the importance of having a supportive national organisation such as the SBF who have invested heavily in their centre of excellence at Bosön to provide the necessary resources for attracting and nurturing young talent.
On the specific subject of encouraging female participation in motor sport Magda referenced the value of the holistic development approach pioneered by SBF's junior and senior national team programmes. An excellent example being the establishment of the now annual " Girl's camp " designed to showcase motor sport to a new audience of young women.
She also reiterated her own oft quoted mantra of the fact that she should be regarded as first and foremost a driver who just happens to be female. No concessions were or should be made to her as the only female member of the national team who always made her feel welcome as a driver who enjoyed parity with her male contemporaries.
" It was a tremendous honour to be invited to participate in such a gathering of the influencers of the future development of global motorsport. There was a genuine interest by the audience members in my own motor sport journey and my views as to how the FIA can encourage more female participation at all levels and roles in motor sport. It was most gratifying to be able to contribute to such a laudable global initiative in a subject that is very close to my heart. "
So commented a proud and reflective Magda.
Dog Day Afternoon.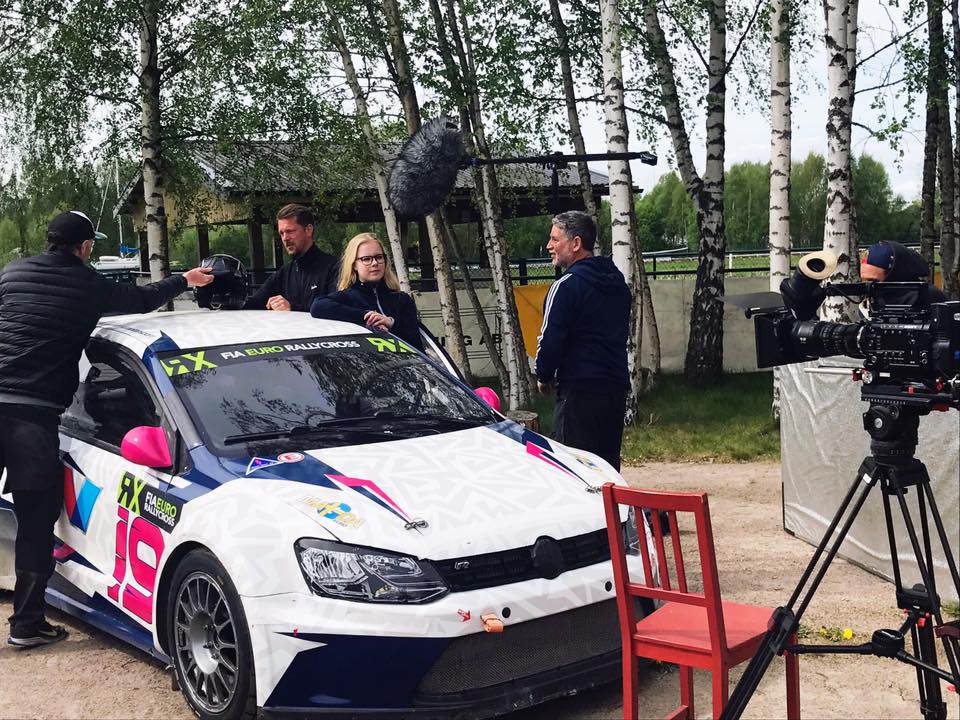 12.10.2017
It might come as somewhat of a surprise to Magda's fans from outside Sweden that not all of her racing challenges this year took place at the more familiar venues or indeed against the usual four wheeled opposition. One of Magda's more unusual exploits in 2017 was to participate in a TV programme called " Duellen " which is broadcast each Saturday evening, in a prime time slot, by the Swedish national broadcaster SVT.
Literally translating as Duel the show's format sees the producers' pitch people against each other or sometimes non humans in a contest, the outcome of which has to be guessed by the studio audience.
Magda was approached by the show's production team earlier this year with a view to pitting her fearsome, nearly 600bhp VW Polo SuperCar against another incredible all limb drive contender in the form of one of Scandinavia's fastest greyhound racing dogs called Joe LaBello.
At first glance that might not be such a fair contest until one considers some statistics.Magda's car can accelerate, on a paved surface, from a standing start to 100kph in just over two seconds. It has incredible traction and can corner as if it was on rails on a normal rallycross circuit that is.The greyhound on the other hand is the fastest accelerating land animal save for the Cheetah.It can reach it's maximum speed of up to 60kph in a mere six strides. It has the most intelligent and adaptive four limb drive system in the animal kingdom and consequently it's cornering ability is phenomenal particularly in the confines of it's natural racing environment.Magda has never been short of ambition, motivation or determination when approaching a race. But the greyhound has the most potent primordial motivation of all, that of chasing down dinner !.So all things considered the show's researchers had really done their homework and the scene was set for a contest whose outcome was truly too close to call.The contest would take place at the Stockholm's Åkers Kanal Greyhound Park on September 9th. and the format would see the car and dog complete separate runs around approximately three quarters of the tracks length.
The outcome would produce a nail biting finish with four wheels just out performing four legs by a mere thirtieth of a second.
Reflecting on her canine encounter Magda comments.
" This was a most usual challenge and my approach had to be rather different to my normal pre race preparations. There was certainly no simulator software available for this venue. Although we may be rivals on the track normally fellow rallycross competitors are a social bunch of people and we all get on very well in the paddock. This time however my rival refused any overtures of pre event pleasantries and I got the distinct impression he was playing mind games with me, attempting to psyche me out with his warm up routines and muscle flexing. However despite the silent treatment I do admire his tenacity and respect him as a worthy opponent. The run itself was executed as I had planned and I pushed to the limits of traction and control afforded by this unusual course. I was of course delighted to win, albeit by a small margin. Any opportunity for a mutual post race celebration was declined as my rival took his leave of us as he had a pressing appointment in Copenhagen the following day. In a more serious vein it was a fantastic opportunity to introduce what I do to a much wider audience that would not perhaps be familiar with the sport of rallycross. Certainly the reaction via my social media channels was extremely gratifying and indicated that the event struck a chord with very many people.I am always delighted to avail of an opportunity presented to me to advance the profile of the sport I love. "
For those of you residing in the Nordics and have access to SVT click on the following link to enjoy footage of the event.
https://www.svtplay.se/video/15078780/duellen/duellen-sasong-1-avsnitt-4?info=visa&start=auto
 Casting a shadow – Riga race report.
17.09.2017
Riga's Bikernieki Sports Centre hosted this weekend's final round of the 2017 FIA European Rallycross Championship for Supercars. In front of a capacity and vocally partisan stadium the destiny of the championship would be decided. The presence of a nearby pine forest might at first suggest a more rural location but in fact the track is within city limits and a mere 20 minutes drive from the city centre.
Magda's second competitive event at this venue began with the only opportunity that exists in rallycross where luck alone can influence the outcome, that is in the traditional Friday afternoon draw for the Q1 grid positions. Drawn in pole position, in the first heat, with only two other competitors was a rare but welcome start to the weekend for the young Skane native.
Lining up on the grid in perfect Autumnal sunshine which was in stark contrast to the weather conditions prevailing here last year for day one. Despite once again showing her pace during the race and employing excellent race tactics by taking here joker lap early, her run was abruptly thrown off course, quite literally, by contact from another competitor whilst exiting his joker lap.
Q2 would present even more challenges as the weather was intent on a repeat performance of last year's first day deluge. Frequent and intense shower activity had left standing water on parts of the track replete with some very, low friction, loose surface sections. Once again Magda launched well and was in third position and demonstrating her intent to better that when fate struck another blow in the form of a puncture. Thus forcing a very frustrated driver to coast home while attempting to negotiate the treacherous conditions and whilst avoiding any further strain on the drive train.  Saturday night's lowly overall placing was ample evidence that Friday's luck had, for now at least, deserted the team.
Sunday saw improved weather but the legacy of Saturday's rain meant that the circuit was still drying when Magda's heat began. A cautious start saw her take third place in the heat and qualify in the middle of the pack and eagerly looking forward to optimum track conditions in Q4 for that final push to book a place in her third semi final of the year. However fate had other plans as Magda launched off the start line the cardan shaft broke and the resulting damage caused an oil leak which in turn ignited on the exhaust system, starting a small fire at the rear of the car. Ever the professional, Magda calmly drove the car to the nearest fire marshal's post and sportingly drew it off the racing line before evacuating. The fire was quickly extinguished by the exemplary intervention of the fire marshal. Magda was completely unhurt and subsequently supervised the recovery of her car back to the paddock.
Rallycross, unlike fairy tales, does not always do happy endings and unfortunately this was not the season finale both driver and team had worked so hard to achieve. However there have been so many positives from Magda's inaugural season in SuperCars not least been classified as sixteenth overall from a regular field of almost twice that number marks quite an achievement in this talented young driver's career.
Magda takes up the story of what proved to be a challenging event in her own words.
" The technical nature of the Riga track always poses a challenge as unlike some other circuits it is very difficult to establish the kind of flowing driving pace that is my preference. However we had an excellent event  here last year and a very positive test session last month. I particularly love competing here because of the passion of the fans and the excellence of the event organisation.My Latvian weekend began so promisingly with an excellent luck of the draw Q1 grid position. However by Saturday evening I was feeling very frustrated as my prospects in Q1 were thwarted by a questionable incident beyond my control and then in Q2 by picking up that puncture so early in what was always going to be a challenging heat owing to the prevailing weather conditions. My philosophy in such circumstances is to leave the analysis of Saturday's event until later and apply my full focus to my Sunday performance. New day, new opportunity !.Q3 provided me with an uneventful run although the circuit had not quite recovered from the previous day's soaking and thus our setup was not entirely suited to the conditions but we knew that at the rate the track was drying we could really push in Q4. However our best laid plans evaporated on the start line when the propeller shaft broke and caused other mechanical mayhem. My priorities suddenly changed to extricating myself safely from the car on a live race circuit and at the same time attempting to minimise fire damage to the car. I am pleased to say that I achieved both and wish to commend the expeditious actions of the fire marshal in assisting me.
To say that I am disappointed with the outcome of events here this weekend would be an understatement. However I also realise that rare mechanical failures are completely beyond a driver's control and reflect in no way on the progress that we have made this year.I cannot believe that my first competitive season in SuperCars has reached it's conclusion already.  It has been a challenging but hugely rewarding experience. It has been such a privilege to drive this amazing Volkswagen Polo SuperCar and equally to be part of such a team of consummate and friendly professionals. Just five competitive rounds is altogether too brief to truly develop the skillset to extract the most from this superlative race car. However I am immensely proud of how I have developed as a driver this year. My sincere gratitude to all of those, family and friends, team colleagues, generous commercial partners and to you, my loyal supporters, thank you all so very much.
Special congratulations to my team mate Anton on being crowned the 2017 Euro-RX SuperCar champion in such emphatic style here in Riga. "
That concludes our race reports for this season but continue to check back here for frequent updates on Magda's off season activities and to hear of her future plans.
As we always say here at team Magda-RX " The best has yet to come "
As a special treat for her supporters and to celebrate the conclusion of her first SuperCar adventure Magda will launch her YouTube channel on Wednesday next September 20th. with an introductory video of what fans can expect through this medium in the future. Check it out and enjoy !.
Riga calling – Latvian Race Preview.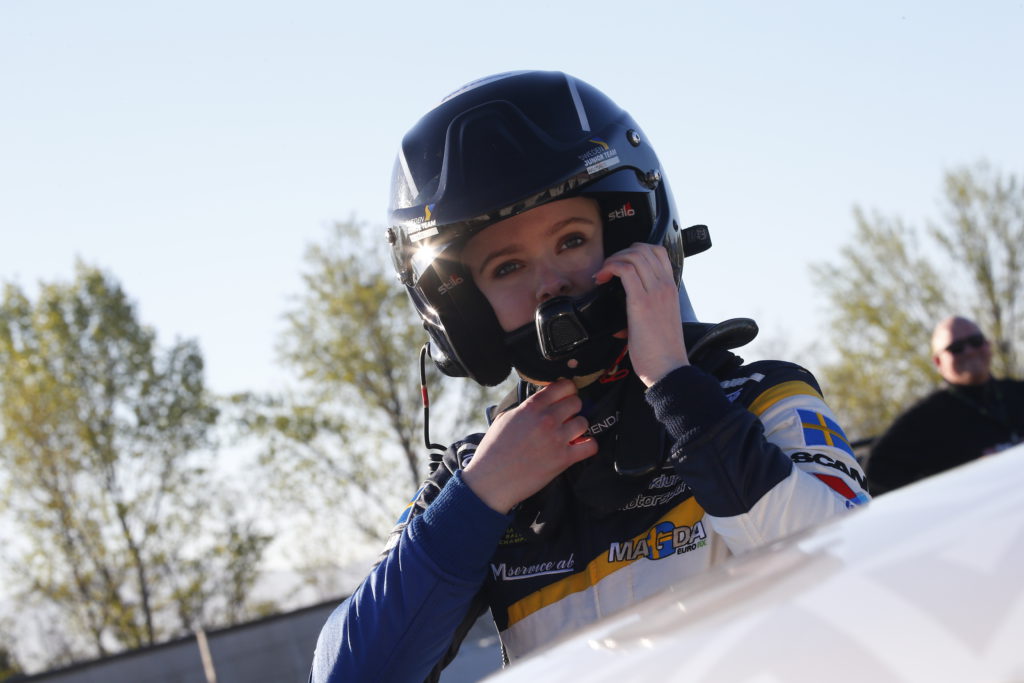 08.09.2017
The days are shortening now and Summer has morphed into Autumn. Likewise the various rallycross class championships are drawing to their respect conclusions. Next weekend's visit of the series to Latvia will see the 2017 Euro-RX competition for SuperCars reach it's ultimate round concluding the five round series at Riga's Bikerniki sport complex.
Latvia may be a very small country but the interest in rallycross is quite a phenomena in this Baltic state. Doubtless because  the country already boasts two European champions interest In rallycross is rife in society here. This is the second time that Riga has played host to the series. Latvian society takes it's hosting responsibilities very seriously indeed and the event enjoys support from the very highest echelons of the national government down to the ordinary fans who last year contributed to the highest level of ticket presales for any round in the championship.
Known as one of the more challenging circuits of the series the Bikernieki course is familiar to Magda as she had a very successful event here last year as she closed the gap on in her challenge for the Touring car crown. It is also the second venue, after Holjes, where she has had the opportunity to undertake a full SuperCar test which took place early last month when the Marklund squad visited Riga with it's full test team. Obviously a test cannot simulate actual race dynamics but it is invaluable in terms of car set up and driver assimilation of the track.
Magda approaches this final round of the 2017 championship with renewed confidence buoyed up by another scintillating performance last weekend in France. Evidently she is getting ever more comfortable in the car as her seat time increases in the fabulous Volkswagen Polo. The pace is there as is the increasing race craft experience which all contributed to the attainment of a fantastic eight place in the overall event rankings.
To set the scene for the event please click on the following link to hear Magda's answers to a media interview profiling the Latvian round which was conducted during her recent visit to Riga.
https://twitter.com/NesteRuna/status/898119146826805248
Magda is really looking forward to meeting all of her local fans who were so supportive during her last competitive drive here, do call by her pit area and say Sveiki.For those of you who cannot be at the event please do stay tuned to her social media channels throughout the weekend and check back here for our post race report.
Magda-fique! Loheac Race Report.
 
La dame du grande vitesse.
03.09.2017
The tiny Breton village of Loheac hosted this weekend's fourth and penultimate round of the 2017 Euro-RX championship for SuperCars. The village's permanent population may be a modest 700 people but when the World and European Rallycross circus rolls into town every September the population can multiply by a factor of 100 times. Bretons are a proud and patriotic people and are absolutely passionate about rallycross, no doubt cognisant of the fact that this is the birthplace of French rallycross. It was this heady mix of history and enthusiastic fans that set the scene for Magda's Gallic competitive debut. Such is the strength of the French national championship and the consequent proliferation of SuperCars that both the World and Euro SuperCar classes boasted maximum entries of 25 and 35 respectively. As a result this would not only mark Magda's fourth SuperCar event but it would also be the most competitive. But relaxed and refreshed after the Summer break the young Skanian was feeling confident and prepared to take up the gauntlet of competition with her characteristic respect all and fear none philosophy.
Once again, owing to the sheer volume of entrants, the first free practice session would take place on Friday night. Notwithstanding the fact that this was her first opportunity to drive on this hallowed circuit Magda immediately demonstrated her intent and finished 11th. fastest in class. Improving on that position by another three placings during the Saturday morning's free practice.
All that augured well in preparation for the qualification rounds three of which would take place on Saturday. This workload would put pressure on both drivers and technical teams as the preparation time between runs would be much reduced so it would be essential to get race settings correct from the data garnered during the practice sessions. As always the Marklund Motorsport squad achieved just that despite the additional pressure of having their two drivers drawn in the same heat in Q1.
Her pace hampered by traffic meant that Magda's event go off to a challenging start as she qualified in the middle of the pack in Q1.
However in Q2 Magda stormed up the rankings to a very credible fourth fastest in class. Likewise in Q3 she drove an inspired heat to finishing in fifth position overall. The combined scores of all three heats seen her in a very enviable 7th position in the overnight consolidated rankings, an excellent result in such a competitive field in this her first visit to Loheac. That good performance was vital on a very busy Saturday as weather conditions were forecasted to deteriorate overnight with an Atlantic storm set to bear down on western France  on Sunday promising a wet race day.
Sunday morning's leaden skies introduced a completely different dynamic to the circuit as a combination of rainfall and low temperatures rendered Saturday's highly effective race setup null and void to cope with the slippery conditions present for Q4. To exacerbate the track conditions even more was the fact that Magda had the outside lane of the very last heat in Q4 after the track had been subject to all of the World and Euro-RX SuperCar competitors.So it would prove as treacherous circuit conditions and a difficult race start conspired to cost Magda valuable time and dropped her to 20th. place in Q4. Nonetheless thanks to Saturday's stellar performance she comfortably qualified for her second semi final and a personal best 9th. place in the post qualification intermediate classifications accumulating another eight championship points.
Although Magda started from the third row of her semi final grid she drove an inspired race to finish in an incredible fourth place. Having being classified in a very credible eight place in the overall event rankings, from a start list of 35 competitors, made for a very satisfactory conclusion to yet another progressive weekend in Magda's Euro-RX campaign.
Magda takes up the story of her French weekend in her own words.
" I was really looking forward to this my first competitive event in France and particularly at the iconic Loheac circuit. My pre event perceptions of the atmosphere created by some of the most passionate rallycross fans anywhere proved to be most accurate. Seldom have I experienced such enthusiastic support from the spectator side of the fence it was practically tangible.
I was very pleased with my own performance throughout the weekend and yet again confirms that we are certainly developing with every event. Finishing in eight place overall from a class capacity entry of 35 of my peers represents a wonderful personal achievement and proof positive of my progression in just four events in SuperCars. My stated pre season aspiration was to qualify for a semi final. The fact that I have now achieved just that in 50% of the events contested is a source of great personal satisfaction in this my inaugural year in Euro-RX's premier class.
But none of this would be possible without the tremendous support of my team and their efforts to provide me with the best possible equipment and circumstance to achieve my ambitions.   Congratulations to my team mate Anton on consolidating his lead in the 2017 championship to a virtually unassailable points total. I was overwhelmed by the vocal support of my many fans here this weekend and to those of you who registered their support via my social media channels. Thank you all so very much.
Now my attention turns to the final round of the series and our return to Riga in two weeks time. See you there !. "
Allez les bleus ( et jaunes ) ! – Loheac preview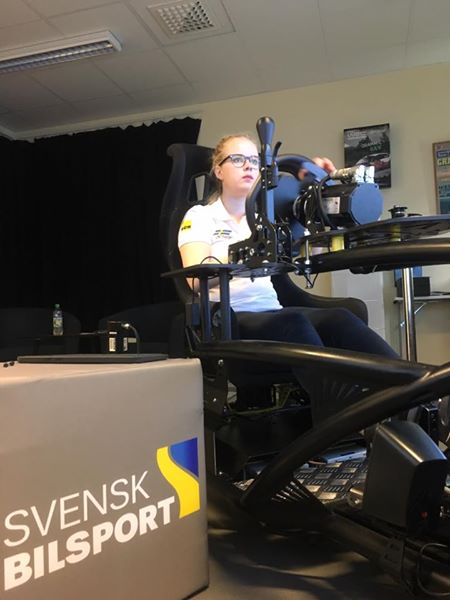 25.08.2017
The long Summer break for Euro-RX participants is almost over as France prepares to host the penultimate round in the 2017 series over the first weekend in September.
The event takes place at the birthday place of Gallic rallycross in the tiny village of Loheac  some 30kms south of the city of Rennes in the western French province of Brittany.
Whilst the permanent population may be small this venue historically attracts the largest spectator numbers of any event in the championship. Furthermore French spectators in general and the local Bretons in particular are some of the most passionate and well informed rallycross fans in Europe.
Amazingly despite this being Magda's sixth season in rallycross the upcoming Loheac round will represent her first competitive outing in France.
The host country has a special resonance with Magda as she was born on France's national day of celebration, Bastille day. Added to the fact that this will afford her ever expanding Gallic fan base their first opportunity to see her compete live, it promises to be a memorable event.
Notwithstanding that Summer is a traditional holiday time Magda has been diligently preparing for the remaining two rounds of the Euro-RX . Last month she travelled with the Marklund squad to Riga's Bikernieki sports stadium, which will host the Latvian round of the competition in mid September, for an extensive test session gaining some vital extra seat time in her potent Volkswagen Polo Mark 5 SuperCar.  Although a live test in Loheac was not logistically practical Magda has been virtually driving the track using Codemaster's DiRT 4 rallycross software loaded on Svenska Bilsport's fabulous simulator located at their Bosön training centre.
" I am really looking forward to my first competitive rallycross outing at the cradle of French rallycross in Loheac. I feel relaxed and rejuvenated after the Summer break and eager to build on the huge leap in competitiveness that we achieved at my home event in Holjes last month. My recent live test session in Riga has confirmed once again that I have the speed and with every additional kilometre driven I am feeling ever more comfortable in the car. Working closely with my amazing race engineer and talented technicians I know there is even more pace to come from both car and driver. Using the incredible facilities at SBF's Bosön training centre I have gleaned a good understanding of the Loheac track. The circuit is both fast and technical in nature with a very challenging mix of corners combined with the traditional narrow French racing line. I have a large French fan base and I am eagerly looking forward to meeting as many of them as possible in person during race weekend. The race bus has been packed with a bumper supply of my 2017 autograph cards so please do drop by my pit area and say bonjour. "
So comments a clearly enthused and confident Magda.
We hope that as many of you as possible will accept Magda's invitation and call by her pit area for a traditionally warm Swedish welcome. If you cannot be there is person follow her progress over the weekend via her social media channels and our read our post event race report in this space. Allez Magda !
Herby goes to Hörby.
05.08.2017

Although Magda has just turned nineteen, she has already been driving competitively for a decade in a wide diversity of race cars.
Incredibly the Skane native, who earlier this month posted the fourth fastest qualifying time in the SuperCar class of the FIA European Rallycross Championship at her home event in Holjes driving her 600bhp VW Polo Mark 5, cannot drive down to her neighbourhood shop to buy some milk as currently she does not have a driving permit.
However all of that is about to change. Free from the necessary distractions of her school work following her recent successful graduation from the International Baccalaureate Programme at Lund's renowned Cathedral School, one of Magda's near term goals is the attainment of her driving permit.
Having recently taken delivery of some stylish personal transport in the form of a beautiful VW Beetle, courtesy of Volkswagen Sweden, Magda now has the means and the determination to work towards her goal to be a road legal driver.
Parallel with embarking on her own driver's education programme Magda wishes to leverage this experience to remind other young drivers of the importance of responsible driving behaviour.
Ideally placed to be an ambassador for road safety awareness Magda, the experienced race driver,  knows that an entirely different skillset is required for safe driving on public roadways.
" Acquiring my driving permit has been on my to do list for quite a while and finally my schedule allows me to begin that process. The arrival of my fabulous Beetle has certainly added impetus to  realising that ambition. When driving competitively I am acutely aware that I am in a very controlled environment where safety is always the number one priority. The safety systems on board my race car combined with my own personal protective safety kit lends me the confidence that should something untoward happen I know I will be well protected.
However I am keenly aware that the public highway is an entirely different space and demands a completely different driving discipline. In the context of 25,500 fatalities on European roads in 2016 it is incumbent on all of us to exercise care and consideration for our fellow road users. My message to all motor sport enthusiasts is to always keep the race in it's place and when driving on public roads arrive alive. "
So comments Magda a clearly socially aware and responsible future road user.
Then and now – look who is 19.
14.07.2017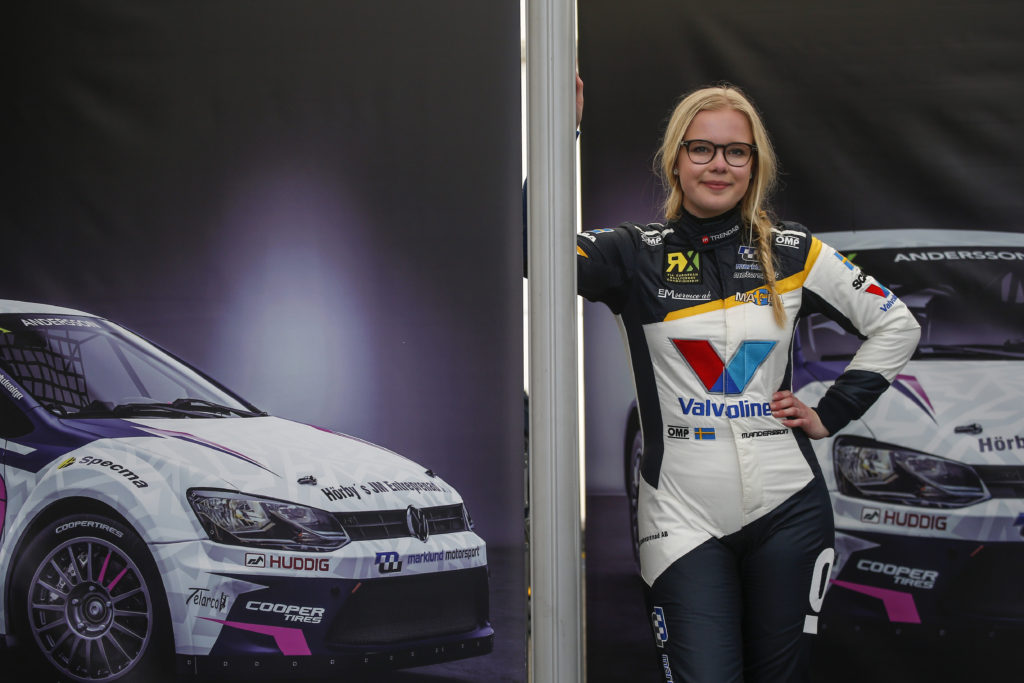 Race suit styles may have altered somewhat and the trophy cabinet has certainly been extended many times in the intervening years.
But the same quiet determination and competitive streak that inspired an ambitious  thirteen year old to progress from her formative years in karting to rallycross is still just as evident today as she contests the premier class of the FIA European Rallycross Championship in her fabulous VW Polo Mark 5 SuperCar as a now nineteen year old.
Today we celebrate her birthday. Grattis på födelsedagen kära Magda !.
Transformational Magic – Holjes Race Report.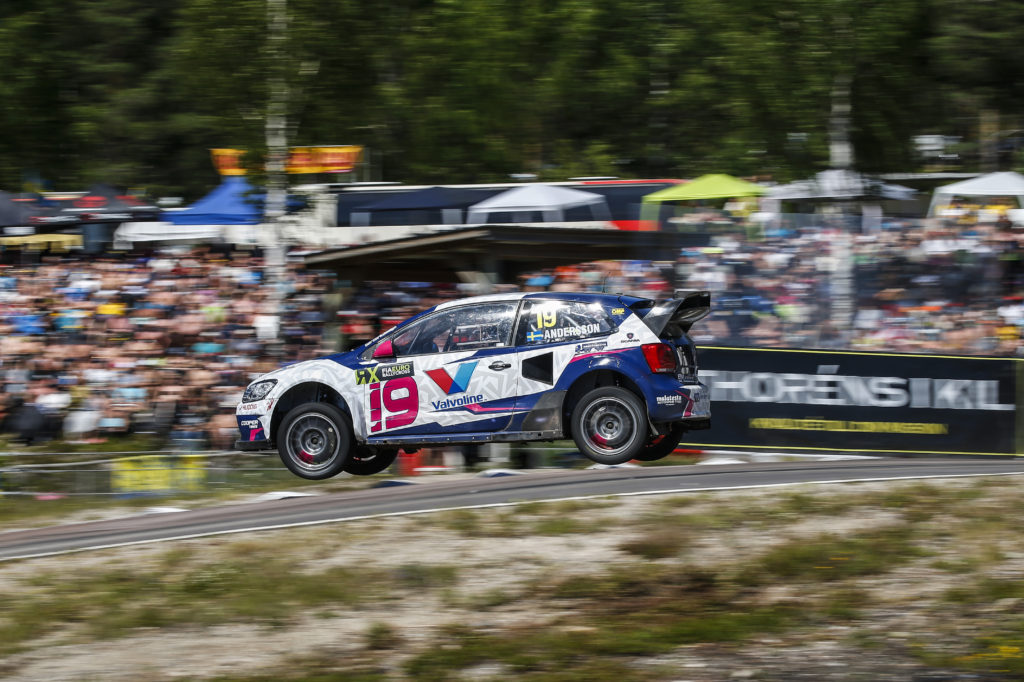 02.07.2017
This weekend's Swedish round of the Euro RX was always going to be a special event in  Magda's 2017 race calendar. Not only was it her third event in the series but more pertinently it would take place in front of her partisan home crowd. Supported by family, friends and her most vocal fans Holjes was bound to weave it's magic spell on her SuperCar journey.
With another record spectator attendance the lure of this venue, nestled deep in the forest country of Sweden's western Varmland province, continues to grow in popularity.
However comforting and supportive home races are they also demand a great deal of a driver as everyone wants to perform well in front of their compatriots. Exercising her characteristic cool, calm and professional temperament Magda managed to redouble her focus and once again make huge strides in her development as a SuperCar competitor. Building on her previous event experience and drawing on her circuit specific pre event testing regime she demonstrated once again why she is one the sport's most exciting young talents.
Given the sheer number of entrants it would prove a long weekend of driving as SuperCar free practice took place on the Friday evening in near perfect Summer weather conditions. Showing her intent from the outset Magda posted a ninth fastest time from a field of 33 entrants.
Unlike the previous events Saturday's two qualifying rounds also took place in similar dry and sun soaked weather which meant that race car setup remained unchanged from that promising practice performance.
In Q1 Magda stormed into the lead in her heat and set a personal best SuperCar qualifying performance by stopping the clocks as sixth fastest overall qualifier. She emulated that lightning launch off the line in Q2, once again leading the pack into turn one. However a heavy landing blew out two tyres and that unfortunately determined her fate in Q2. The resulting consolidated overnight  position was not reflective of her pace that was so evident in both practice and race conditions.
Unbowed Magda embraced  Sunday's qualifying rounds as another opportunity to prove her credentials as an emergent  SuperCar front runner. In Q3 she certainly delivered on that potential by coming a sensational fourth fastest in class and winning her heat much to the delight of her home support. Race dynamics in Q4 meant she could not achieve the stellar result of the earlier heat. Nevertheless the attainment of yet another top ten heat placing secured her a place in her first SuperCar semi final and a credible twelfth placing in the intermediate points classifications crowned a superlative qualifying performance in this only her third event.
To put that performance in context it is worth remembering that there were 33 Euro RX entries in this event and Magda achieved the fourth fastest qualifying time, in absolute terms, of the entire event.
Making a cautious but determined start in her semi final Magda managed to skillfully avoid the initial first corner contact but unavoidably collided with another car that was thrust directly into her path by that earlier contact. So ended a memorable weekend for the talented Skane driver. It was a disappointing end to such a transformational weekend on her SuperCar journey but the positives from this magic weekend far outweigh that one negative and Magda's  incredible performance augurs exceedingly well for the remaining races in the 2017 championship.
Taking up her personal account her Holjes experience Magda commented. " Coming home to Holjes was always going to make for a special event for the team and I. The atmosphere created in this beautiful part of western Sweden by some of the most passionate fans anywhere was palpable. As a driver there is enormous pressure to keep those home fans cheering but that is balanced by their enthusiastic support.
The say that I leave here extremely pleased with my performance would be an enormous  understatement. I can honestly state that I have comfortably exceeded my own pre event expectations. In particular by realising my stated objective of translating the pace experienced during my pre event testing into real time race conditions. My qualifying times certainly vindicated my own view that we are on the correct trajectory, to my ambition of the attainment of a podium position. To effect incremental progress, in the context of the hyper competitive environment that prevails in this class, can be frustratingly slow at times but I know that further excellent results will accrue with more seat time in this fabulous car under race conditions.
Marklund Motorsport once again provided me with the best possible race car  and setup together with their superlative on event technical and personal back up. Without this amazingly talented  team of people behind me none of these results  would be possible. Take a bow guys ! I also wish to convey huge gratitude to all of my loyal supporters who visited me in the  paddock and who were so vocal during the races.Finally I am thrilled to celebrate my team mate's victory in the Euro RX final thus further consolidating his overall lead in the series.  Stor Grattis Anton. "
Now it time to enjoy this great Summer season and look forward with renewed determination to the recommencement of race action in September at the crucible of French rallycross at Loheac. Let the magic continue !.
Stay in contact with Magda's Summer via her social media channels and some upcoming news items in this space.
If you go down to the woods today – Holjes preview.
23.06.2017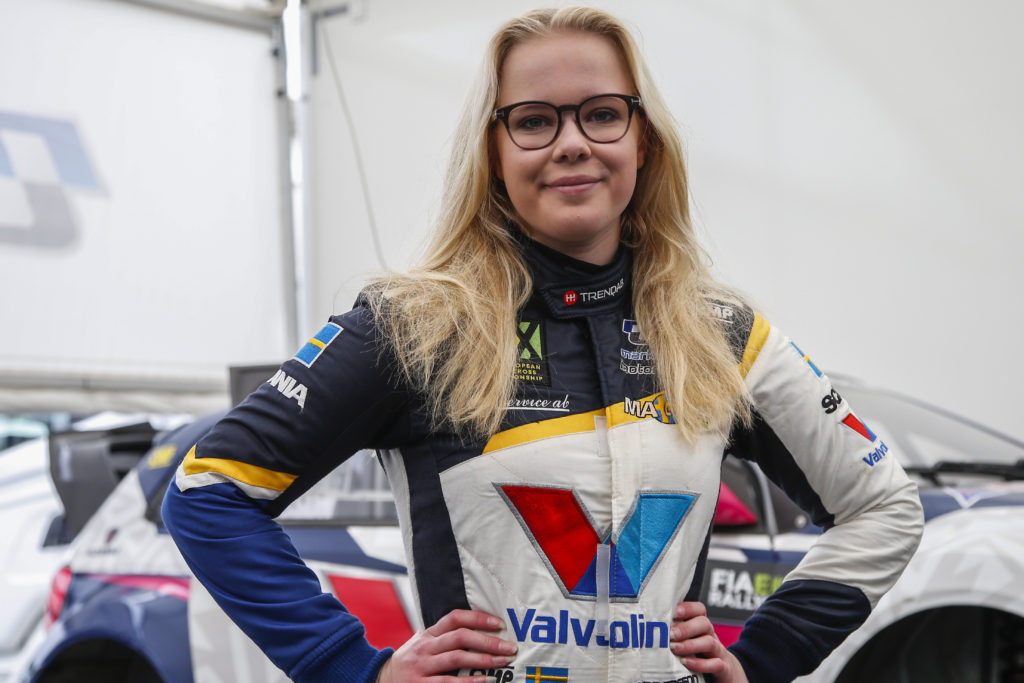 " Some people call it magic, I call it home "
Iconic is a very much over used term but when applied to the phenomena that is Holjes it certainly rings true. Combining as it does the raw authenticity of a traditional rallycross circuit with the modernity of the world class organisational skills of the hosting club. With attendances now exceeding 30k for anyone who loves rallycross Holjes is the venue of choice over the July 1st. and 2nd.  weekend. Nestled in the midst of the beautiful forest lands that predominate this part of western Sweden Holjes is the quintessential celebration of man and machine in an idyllic mid Summer setting.
To Magda this not only marks her third SuperCar event but it is also has the distinction of being her home round of the Euro RX. Every driver races to win of course but to compete in front of one's home audience only adds to the ambience of the magic weekend. Encouraged by a very competitive outing in the recent Norwegian round of the Euro RX in Hell two weeks ago driver and team are looking forward with the confidence that is born from the meticulous preparation that comes with competing at this level in the sport.
Previewing her home event Magda comments. " Since I was a little girl the dream of driving in Holjes has been one of my principal motivators and having driven here on many occasions in other classes I am really enthused about driving my fabulous Polo Mark 5 SuperCar over this renowned circuit. The support of the crowd here is almost tangible and together with the presence of family, friends and commercial partners marks this event out as one of the highlights of Summer. I am very confident that we can build on the progress that was so evident in Hell and significantly Holjes is the only circuit where I have had the opportunity to test prior to a championship race. Consequently I can really focus on the actual racing here from the outset as I already know how the car reacts on this track from our test data. I am really looking forward to greeting fans old and new in my pit area where a bumper stock of my new autograph cards will be on hand, so please do drop by and say hello. See you there !. "
Whether you are a dyed in the wool rallycross supporter or an ardent party goer join us in this unique celebration of Summer deep in the Swedish forests next weekend.
Stay tuned to Magda's magic weekend in Holjes via her social media channels.
Steady progress – Hell Race Report.
11.06.2017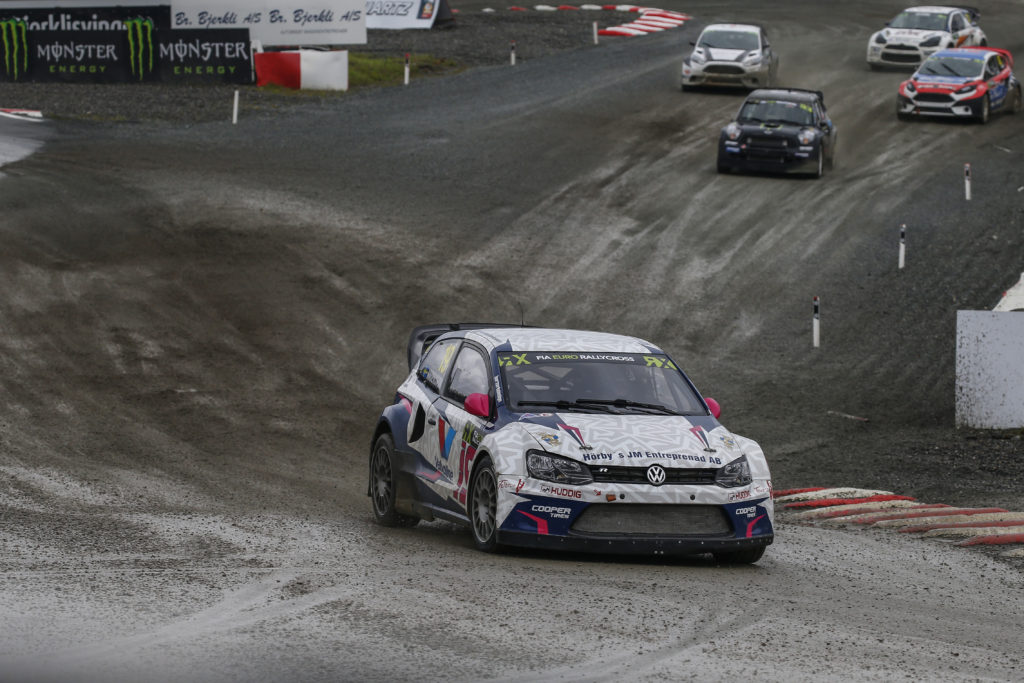 Enjoying the heat in Hell !
The annual visit to Hell began with Friday evening practice which was held in perfect Summer weather conditions. Driver and car felt good and the crew effected final setup changes ahead of Saturday's two qualifying sessions. As if mirroring the first day's racing at round one in Barcelona the weather would once again play a huge part in this event also. Rain arrived early on Saturday and persisted throughout most of the race schedule. Whilst rain fall amounts were relatively modest the effect on track conditions was more profound and more pertinently on car race setups which were honed in the dry conditions that prevailed during the previous evening's practice runs.
Nonetheless Magda acquitted herself extremely well in Q1 race adopting a cautious but determined approach that saw her finish her heat in third position behind wet weather specialist Mats Ohman and the very experienced Robin Larsson. Her reward was a very credible sixteenth position in the overall standings out a total field of twice that number.
Unfortunately in Q2 things did not quite go as planned. Having made an excellent start Magda opted to go it alone on the main track whilst everyone else dived into the joker deviation. This resulted in her leading the heat and planning her joker strategy when on lap three, whilst negotiating the tricky corner at the base of the downhill section of the course, an engine stall saw her tumble down the overnight standings. It was a cruel twist of fate that was not reflective of her excellent and improving pace during the event thus far. However true to her unrelenting character this temporary setback only served to strengthen Magda's resolve for the Sunday runs.
Sunday's early overcast but dry conditions made a very welcome start to the day. Likewise Magda made the best possible start to her day with a superb launch from the start line and a fast but controlled display of driving that delivered her first Supercar heat win. Her time was also excellent finishing eleventh in the overall heat standings a fitting reward for her superlative driving performance coupled with a very clever race strategy by her team. Revelling in the dry conditions Magda once again made another lightning start in  Q4 and lead the heat before having to settle for second in heat on the final lap as she emerged from her joker lap to join the main circuit. Nonetheless she managed to post the thirteenth fastest time in the heat.
Overall Magda was classified a very impressive fifteenth in the intermediate classifications from a field of 33 SuperCars, collecting her first SuperCar points in the series in this only her second event in the class.
Magda also created her own piece of rallycross history here this weekend by being the first Swedish woman to win a SuperCar heat and the youngest ever female driver to score points in the FIA ERX Championship for SuperCars.
Reflecting on the weekend Magda said. " The overall sentiment that I take from this weekend's event here in Hell is one of the quiet satisfaction of knowing that we are now translating the pace that we have seen in my test sessions into the racing environment. I have always been confident in both my driving skills and my race craft. Now I have proven that I can deliver that pace under race conditions. What I now need to work on is to deliver such results ever more consistently. Once again I must pay tribute to the  amazing team at Marklund Motorsport for working so diligently all weekend in some very demanding track conditions to provide me with such a an amazing car. I would also like to congratulate my team colleague Anton on his excellent performance this weekend and consolidating his lead in the overall championship. Many thanks to all my Norwegian fans who dropped by to say hello this weekend and for all of my fan support over social media throughout the event. Now I am looking forwarding to bringing it all home to Holjes. See you there!."
HELL-o Norway !
03.06.2017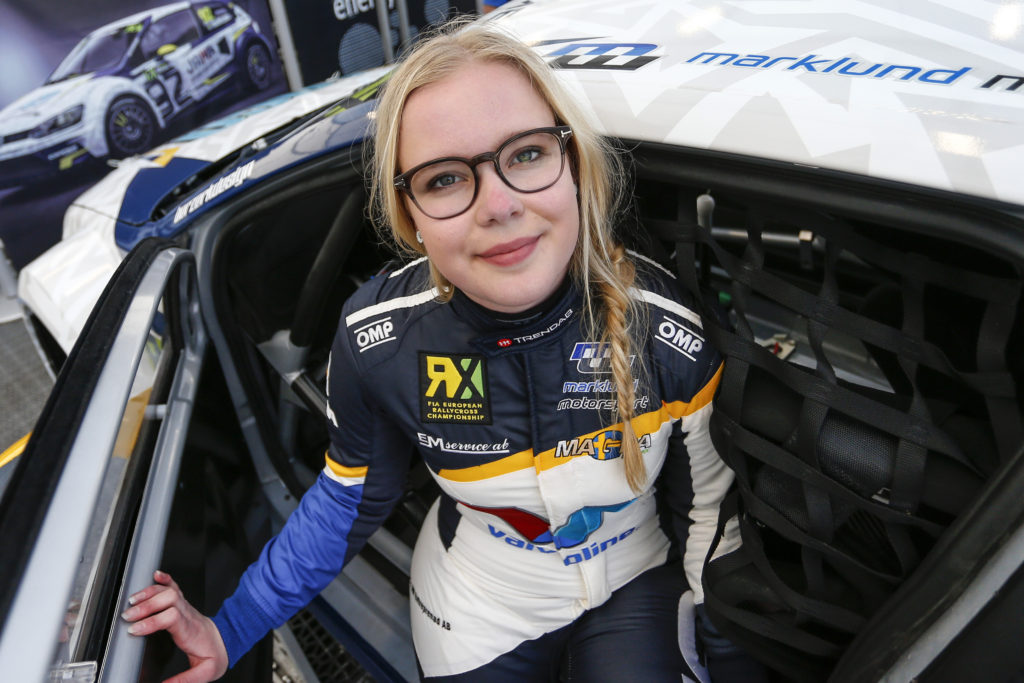 Magda shares her thoughts on ERX Round 2.
Summer is here at last and the FIA international rallycross series is returning to Scandinavia with the now traditional Nordic double header events at Hell in Norway and Holjes in Sweden.
It has been a particularly long break from racing action for Magda and her fellow SuperCar competitors in the FIA European Rallycross Championship. The 2017 season opener took place almost two months ago in Barcelona. That event seen an emphatic win for Magda's Marklund Motorsport team mate Anton Marklund driving an identical Volkswagen Polo Mark 5 to the car that Magda is competing with this year. The Spanish event proved a disappointing debut in the SuperCar class for Magda as a combination of atrocious weather conditions experienced during the Saturday qualifying heats and a rare transmission failure during heat three conspired to exclude her from semi final qualification in round one of this year's ERX challenge.
The break from race action has proved an extremely busy time for the Skane native  consumed as she was by her academic studies, preparing for her final examinations in the International Baccalaureate Programme at Lund's renowned Cathedral School. With the successful conclusion of her examinations three weeks ago Magda can now apply her full energy to her motorsport pursuits and specifically  the pivotal upcoming races at Hell and Holjes.
" I have not attempted to disguise my sense of disappointment and frustration at the outcome of the opening race in Barcelona. However I know that there was such a confluence of adverse circumstances at that event that were completely removed from my control that one cannot dwell upon that one event.
Recently all my energies have, by necessity, been directed towards the successful completion of my final school examinations. I am cognisant of the importance of the attainment of a good education as an essential perquisite to any future career opportunity. I am most appreciative of all the support from my fans as evidenced via my social media channels over the past few months.
But now my full focus is on the physical, psychological and practical prep work that goes with competing at this level in rallycross. Despite my academic workload I have undertaken further testing gaining vital seat time during  our team's recent test session at Holjes. Similar to our preseason testing regime I am very encouraged by my pace and particularly been afforded the opportunity to drive on a circuit that I am familiar with and more pertinently one that will host my home event in July.  I am also fortunate to be able to pace myself against my team colleague Anton who has such a wealth of SuperCar experience and is the current class leader.
Hell is a circuit that I know very well from my previous Touring Car events there. It is a very challenging but hugely rewarding track to compete on and I am feeling very confident going there with a class leading car and the support of one of the most experienced teams in the paddock.
Looking forward to meeting you all in Hell!. "
So commented a very energised and enthused Magda as she completes her pre event preparations and looks forward to the resumption of the FIA European Rallycross Championship for SuperCars.
Do come out and enjoy Summer with us at Hell's Lankebanen over the weekend of June 10/11th.  and follow Magda's progress during the event via her social media channels. God Sommer !.
Easter Greetings.
                         16.04.2017
The Easter holiday is traditionally the quintessential celebration of Spring and a time that we all look forward to the lengthening days, the imminent arrival of Summer and the return of rallycross to Northern Europe.
Magda wishes to extend her very best holiday wishes to everyone in the rallycross community and particularly her loyal and ever expanding fan base.
Thank you all so much for you continued support and now that Summer is almost here it will not be long until Magda will be bringing it all back home to Hell and to Holjes.
Happy holiday or as we say in Sweden Glad Pask !.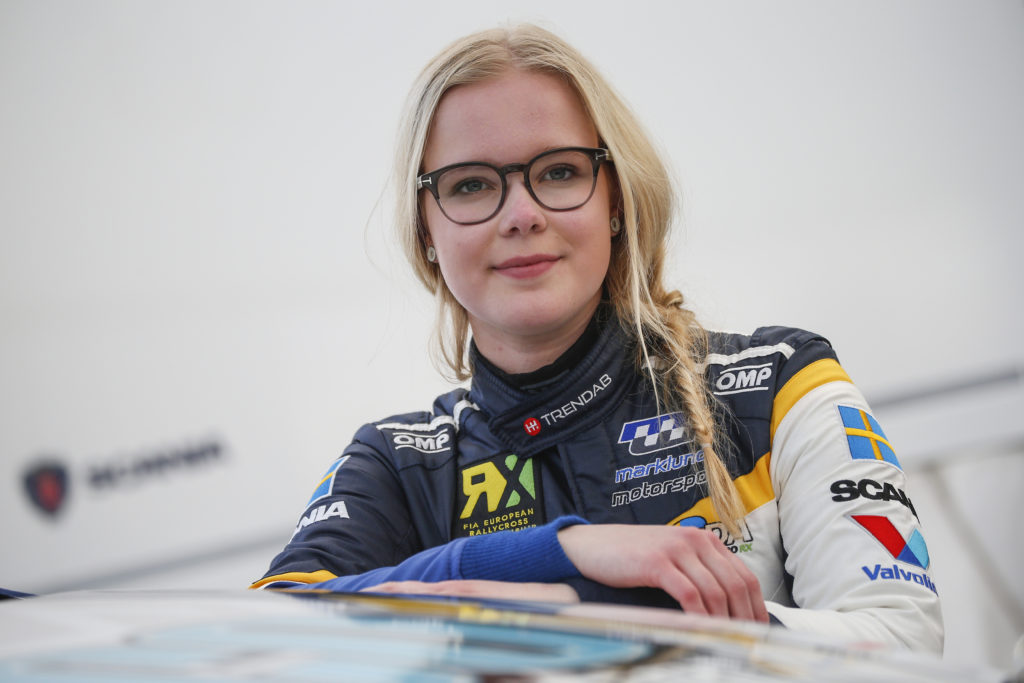 Spanish Lessons – Barcelona race report.
02.04.2017
" Life is not about waiting for the storm to pass. It's about learning to dance in the rain "
The opening round of the 2017 FIA European Rallycross championship proved a very steep and challenging learning curve for Magda this weekend in Barcelona. Faced with an entire season's worth of varying weather and ground conditions in addition to this being her inaugural event in the SuperCar category certainly tested Magda's resolve. But, as always, in her quietly determined way, she rose to the occasion and redoubled her efforts to overcome adversity and garner some invaluable extreme driving  experience that she will undoubtedly apply in her upcoming races.
The old adage of " the rain in Spain falls mainly in the plain " certainly did not ring true on day one at Circuit de Catalunya. Notwithstanding it's relative proximity to the sea as opposed to the plain weather conditions presented huge challenges to drivers and race engineers alike. Rapidly alternating periods of dry and wet weather conditions rendered tyre and setup choices a lottery.
During Q1 the track conditions  quickly deteriorated with the loose sections and the carryover between the former and the paved sections of the course presenting a surface coating devoid of grip. To further exacerbate matters the grid draw dictated Magda was in the last heat and she was also was drawn on the outside row. Race plans formulated from the dry track conditions, experienced during practice, became irrelevant. A slight brush with the barrier on approach to the jump, when her vision was impaired whilst chasing down another competitor, caused an upset to her car's landing reaction which propelled it into the opposite track side armco. Whilst the incident did not incur any damage to the car it did cost Magda precious time.
Weather conditions had improved for Q2 but still the loose sections were far from ideal for a SuperCar debutante. However despite this Magda finished third in her heat and eagerly looked forward to the forecasted drier conditions that were set to prevail for day two in Spain.
Sunday morning delivered a perfect mid Spring day with bright sunshine replacing the previous day's overcast gloom. Everything with the car and driver felt perfect during the warm up session and Magda looked forward to Q3.
However car 19 never left the start grid as a rare but terminal gearbox failure occurred as Magda was about to launch off the start line. Through herculean efforts her amazing race mechanics managed to change the gearbox within the almost impossibly tight time window between Q3 and Q4.
Thus enabling Magda to line up for the first heat of Q4. Having made an excellent start she was in second place heading down the fast start straight rejoicing in the fact that she was at last able to participate in at least one heat under dry conditions. Eventually she finished third in the heat.
Unfortunately she could not progress to the semi finals on this occasion but this event, notwithstanding it's trials, merely marks the beginning of Magda's SuperCar journey. The best has yet to come.
Reflecting on her first ever SuperCar event Magda commented. "Overall the weekend has been one of frustration for me as I know, from our pre event testing, that I already have the speed to compete on a par with my contemporaries in this class. However the weather prevailing during the vital qualifying sessions on day one really dictated the outcome of this event for me. My aim, as always, was to reach the semi final stage but unfortunately given the hyper competitive nature of the class that was just not possible here in Barcelona.
However I take plenty of positives from the weekend not least the fact that the, wet weather induced, treacherous surfaces have provided valuable lessons in handling a SuperCar under such extreme conditions in the heat of competition. These are skills that it is impossible to garner under test conditions and ones that I will apply in the remaining races of the series.
I am truly grateful to my engineer, race technicians and everyone at Marklund Motorsport who battled tirelessly this entire weekend to provide me with the best possible setup to tackle such a wide variety of track conditions. Also a huge Gracias to my fans for their loyal support in person and through my social media channels all weekend.
My abiding memory of this weekend though will the sheer exhilaration of driving this amazing VW Polo SuperCar in competition. I have likened the experience to stepping from piloting a small training aircraft to a fighter plane on full afterburn.
I also wish to convey my heartiest congratulations to my team mate on effecting the best possible start to his ERX campaign by claiming maximum intermediate points followed by an emphatic win in the final. Stor Grattis Anton !.
But for now it is back to my studies as my final examinations are looming but thereafter I am eagerly looking forward to my next SuperCar outing. See you all in Hell !."
It's Show Time– an exclusive insight as Magda looks forward to her first SuperCar race.
24.03.2017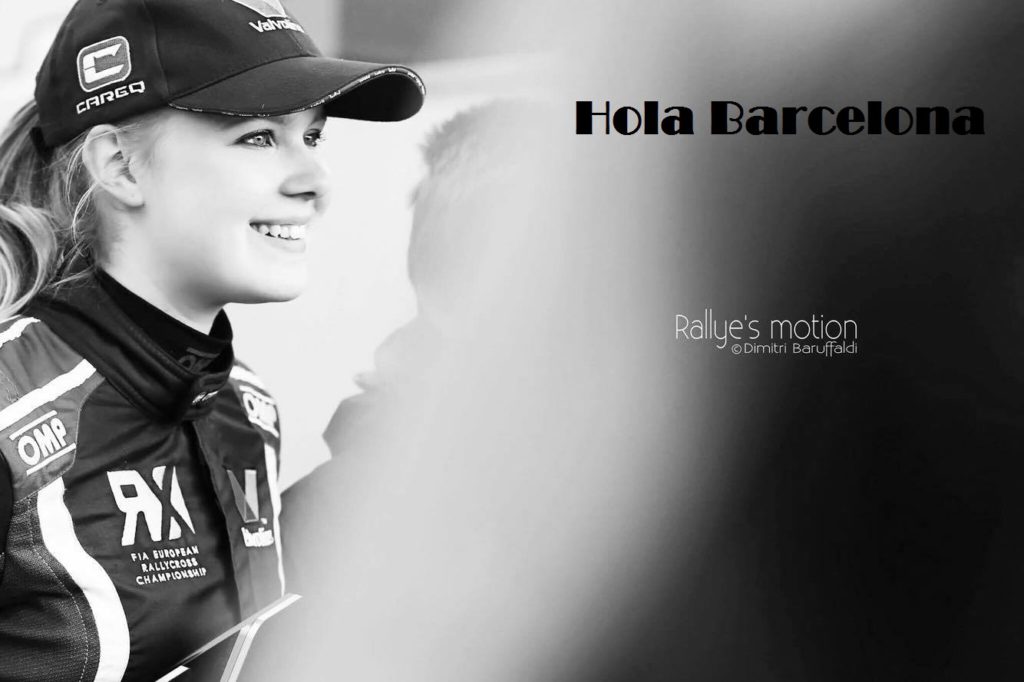 Spring heralds the annual avine migration northwards from the more temperate regions where they have sought sanctuary to escape the ravages of a northern Winter. Travelling in the opposite direction the rallycross fraternity undertake their own migration to southern climes as the race season commences anew.
Spain will host this year's curtain raising event which takes place at Circuit de Catalunya, situated just north of Barcelona, on the weekend of April 1st. and 2nd. next.
The announcements of record numbers of confirmed entrants in the various classes over recent weeks have raised the prospect of an extremely competitive and exciting campaign ahead.
The ERX series comprises of five events spread throughout the Summer and early Autumn.
Fulfilling a long held ambition to contest ERX's premier, SuperCar class Magda is finalising her preseason preparations before embarking on the most exciting season to date on her rallycross journey. Even though still just eighteen years old this is Magda's sixth season competing in rallycross and her fifth participating  at international level. Her determination on the track is mirrored by her dedication to preseason preparatory work. This year presents particular challenges as it is also a landmark year in Magda's academic career as she manages a huge workload ahead of her graduation, this  Summer, from the international baccalaureate programme that she has been studying. All of this means that Magda has had to become an accomplished doyenne of time management.
Sharing her thoughts on the upcoming season Magda comments thus. " I am tremendously excited by the opportunity that has been afforded me to participate at the pinnacle of ERX competition. Through necessity my studies have commanded a great deal of my time and concentration throughout the off season. But I have also applied myself to the physical and psychological preparations that are essential to be competitive as this level of the sport.
The level of competition has reached an historic high in all classes and none more so than in the SuperCar one with 29 confirmed, permanent entrants and several, event specific, ad hoc drivers taking part. My approach, as always, will be one of cautious optimism. I have complete confidence in my new team to provide me with the best possible challenger in the form of the incredible Polo Mark5 as  evidenced from our testing programme. I am privileged to be working with such tremendously talented people who all share my vision of the level that we need to attain in such a competitive environment where the bar to success has been raised very high indeed. I feel the skillset that I have honed from driving a varied stable of race cars will stand me in good stead to pit myself against the very best drivers in class.
This is the attainment of a dream and I am tremendously grateful to both my new team together with the support of my generous commercial partners who collectively have made my participation at this level of the sport a reality. I am so looking forwarding to meeting  all of my  fans, both old and new,  at the various venues in the coming months. I really appreciate all of your support and good wishes ".
You can follow Magda's progress via her social media channels and here where we intend to keep you informed with regular updates, race reports and new features chronicling what promises to be the most exciting chapter, to date, in Magda's rallycross adventure. Better still why not drop by in person and say hello at her pit area at any of the race venues, you will always be assured of a warm, Swedish, welcome.
Detail information  of events, results,  standings and general background on the sport can be found by following the link hereunder to the website of the series promoter.
http://www.fiaworldrallycross.com/
                          No glass ceilings – Happy International Womens' Day.                                     
                                                                                                                                    08.03.2017
Motor sport is very often seen as one of the last bastions of male domination.  But slowly the tide is beginning to turn and Magda is at the forefront of a new generation of talented and determined young drivers to emerge in the rallycross arena in recent years.
These young drivers are not defined by their gender but rather by their ability and commitment to be the very best at what they do.
Recent initiatives such as the Swedish Motorsport Federation's " Girls Camp " held at their Bosun facility last Autumn point the way to the future. Events such as this have established a portal for young women to participate in an event which showcases the opportunities that exist in contemporary motorsport. Now it is incumbent on such young women to follow Magda's lead and seize the many opportunities that are now emerging in this space.
Reflecting on her motorsport journey to date Magda comments.
" I am often asked what it feels like to be a woman competing in a hitherto male dominated sport. I see things somewhat differently and regard myself first and foremost to be a driver who just happens to be a young woman.
When I am sitting on the grid and the starting light signals the start of the race my gender becomes irrelevant, believe me there is no ladies first etiquette in the motoring maelstrom that is the dash to that first corner.
I would encourage any young woman contemplating involvement in this amazing sport to work hard and follow your dream. Celebrate and be inspired by International Womens' Day ".
Magda – rising above glass ceilings.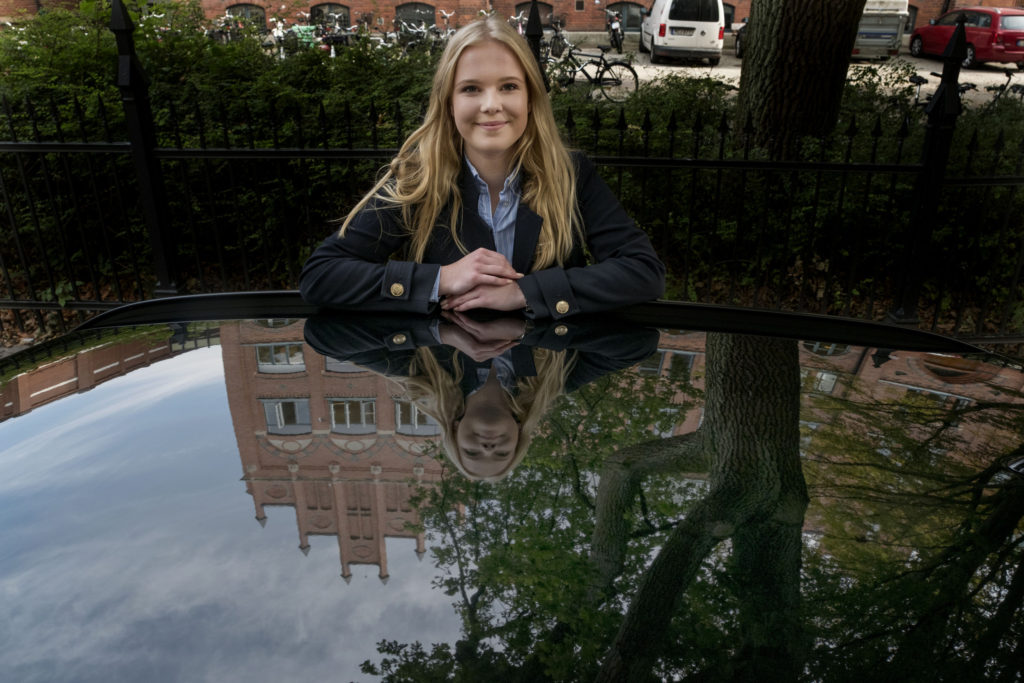 Photo by Ingemar D. Kristiansen
Project XIX unveiled.
01.03.2017
Reflecting the imminent arrival of Spring when nature produces it's dazzling displays of fresh hues to punctuate the Winter induced greyness, Magda too has been busy in the design studio.
Precisely one month in advance of the season opening event in Barcelona Magda has today unveiled the livery of her 2017 race car.
Resplendent in a completely bespoke design the Polo Mk5 SuperCar looks both purposeful and contemporary with it's bold, Magda inspired, purple flash detailing.
" I am absolutely delighted with the final outcome of our design deliberations for my new race car. I believe that the design team have managed to execute a dynamic and fresh colour scheme that reflects the wonderful new racing adventure that we are about to embark upon. I am so looking forward to presenting it to fans next month, Car 19 is ready to race and so am I "
Said a very enthused and proud Magda at today's design launch.

The company she keeps.
07.02.2017
On the fringe of the recent FIA Offroad 2016 Awards Ceremony in Porto, Portugal Magda received a warm and chivalrous welcome to the rallycross SuperCar club by compatriot and reigning double  WRX champion, as driver and team principal, Mattias Ekstrom, her former karting and JRX contemporary and 2016 ERX champion Kevin Hansen and the gregarious Andreas Bakkerud,Norway's most successful 2016 WRX competitor.
Magda summed up the occasion thus " It was a really gratifying experience to be made to feel so welcome as a fellow SuperCar competitor by these icons of the sport ".
Welcome to the SuperCar club Magda !.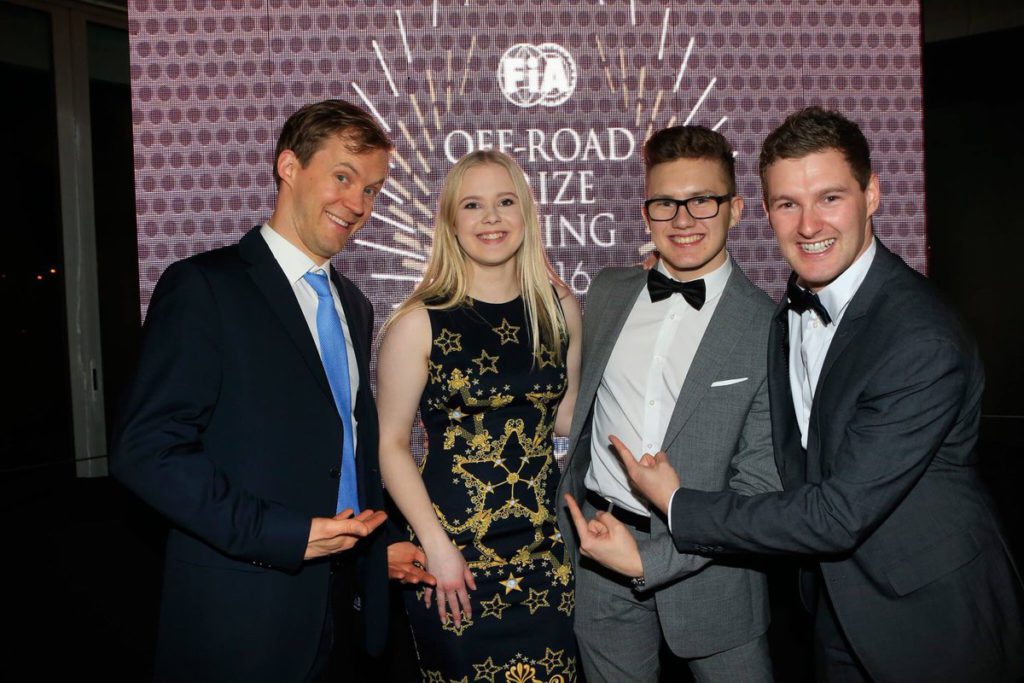 Photo. Paulo Maria / FIA
Awarding experiences.
28.01.2017
The joinery industry in the Skane region of Sweden is assured of a bright future as Magda's trophy cabinet is in constant need of enlargement.
Magda's stellar performances on the European stage in 2016 have generated the latest crop of awards to grace the Andersson home.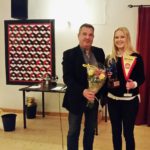 First up was SMK Horby's 2016 " Driver of the Year " award.  " It is very humbling to be recognised in such a magnificent way by one's peers as the receipient of my home motor club's most prestigious annual award ". Commented a clearly elated Magda after being presented with her award by the club chairman.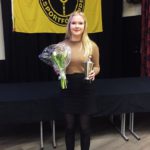 Although still only eighteen years old Magda has, for the third time in her career, been awarded the accolade of " Female Driver of the Year 2016 " by the Federation of Southern Swedish motor clubs. Once again recognition of Magda's leading ambassadorial role in the promotion of gender equality in rallycross.
The latest trophy to wing it's way, quite literally, to Magda's cabinet is the FIA European Rallycross Championship for Touring Cars Vice Champion of 2016 which was presented in Porto, Portugal at the FIA Offroad Awards ceremony which took place on Friday January 27th.
This magnificent trophy is the perfect compliment to the four podium trophies, from her successful 2016 campaign, already residing there.
Photo. Paulo Maria / FIA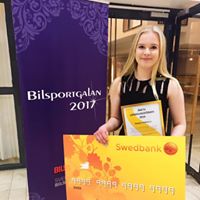 To crown a memorable weekend Magda dashed back from Porto to Stockholm to attend the Bilsportgalan 2017, Sweden's national motorsports awards ceremony, held on Saturday January 27th. where she was the recipient of one the evening's most prestigious honours that of " National Driver of the Year 2016 ".
" This weekend has been a whirlwind of truly memorable experiences and I feel extremely  humbled and grateful for the honours bestowed on me by the sport that I am so privileged to participate in " declared a very proud Magda.
Generation Next.
25.01.2017
As part of Magda's off track activities no opportunity is ever squandered to promote the sport of rallycross and to act in a mentoring role to enthuse and sow the seeds of interest to the next generation of potential race drivers.
The latest initiative undertaken by Magda was hosting a field trip by her old alma mater Kindergarten when they visited her team's base to learn more of the day to day activities that go to make a class leading rallycross team.
" It was a wonderfully refreshing experience to witness the unbounded inquisitiveness of the little ones and their interest in what I do " commented a clearly enthusiastic Magda.
Judging by the complimentary reactions on social media afterwards the young ones clearly concurred with that assessment of the visit.
Giving something back.       
02.01.2017

To compete effectively in today's ultra competitive rallycross arena a driver needs to undertake meticulous preparation both on and off the track.
Never has this been more evident than in the latest crop of emerging young rallycross talent.
Magda credits her participation in the Swedish Junior Rallycross Team programme as being a crucial ingredient in her development as a driver to date.
Run under the auspices of the Swedish Automobile Sports Federation the Junior Team programme assists young drivers between the ages of fourteen to eighteen years .
Reflecting on her participation, since 2013, in the programme Magda comments " The Swedish Junior Team programme has been hugely important in my development as a driver. They are not only interested in the imparting of technical driving skills but also in the holistic development of their drivers with physical, psychological, dietary and media modules delivered as part of the curriculum on their training days ".
The promoters are also leading the way in encouraging more female participation in the sport of rallycross. Last October the inaugural " Girls Camp " took place at SBF's facility at Bosun which acted as an open weekend to give prospective future competitors an introduction to the programme. Although still only eighteen years old Magda was chosen as one of the mentors for the weekend delivering the communications module. Magda summarised the experience " It was a fantastic event and I was amazed at the diversity and enthusiasm of the participants. It was also satisfying to have the opportunity to give something back to an organisation that has made such a significant contribution to my career in motorsport ".
2017 – Preview of Magda's SuperCar debut year.
01.01.2017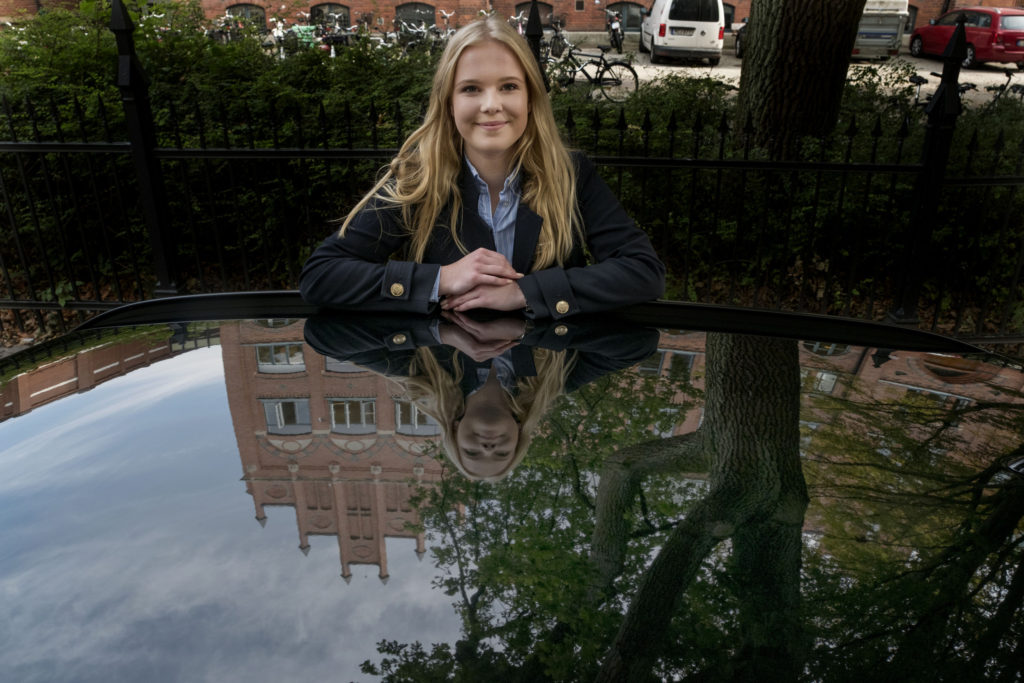 Looking forward with determination.                Photograph by Ingemar D.Kristiansen.
This year Magda will contest the FIA European Championship for SuperCars driving a Volkswagen Polo based entry prepared and run by Sweden's Marklund Motorsport.
In yet another first she will become the youngest ever woman to contest an FIA SuperCar series. Although still only eighteen years old this will be Magda's sixth season competing in rallycross, five of which have been in European competition. Building on a highly successful 2016 campaign which culminated in her being crowned the FIA 2016 Vice Champion in the highly competitive Touring Car class. The move to the SuperCar class is seen as a natural progression for this talented and ambitious young driver. This is the realisation of a long held dream, harboured since she was a nine year old kart driver, to compete in the Euro-RX's premier class and represents the culmination of many years of dedication and meticulous preparation both on and off the track.
Commenting on her plans for the forthcoming season Magda said " This is the best possible platform to launch my SuperCar career. The combination of an experienced team and a car with world class credentials provides me with a unique opportunity to test my mettle against some of the most talented drivers in motorsport. I look forward with great enthusiasm to applying the skill set that I have honed over the past five years in rallycross and vindicating the faith placed in me both by my new team and my commercial partners who have made my participation at this level of the sport possible. "
The series takes place over five rounds at the following venues.
Spain, Barcelona Circuit de Catalunya April 1-2.
Norway, Hell Lankebanen June 10-11.
Sweden, Holjes Motorstadion July 1-2.
France, Loheac September 2-3.
Latvia, Riga Bikernieki stadium September 16-17.
Detailed circuit and event information can be found here www.fiaworldrallycross.com/calendar
Do come out and support Magda at any of the aforementioned events or follow her progress through her social media channels and by regular updates posted here.
2016 – Review of a momentous year.
31.12.2016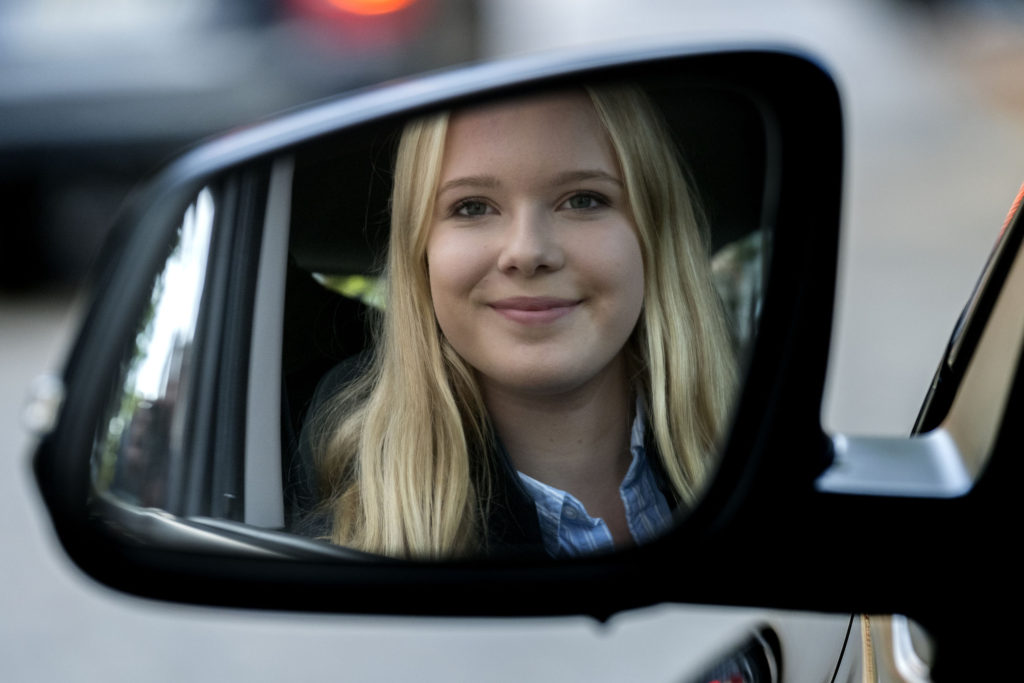 Looking back with pride.                   Photograph by Ingemar D.Kristiansen.
Magda competed in the FIA European Rallycross Championship for Touring Cars in what proved to be the most successful year of her driving career thus far. Building on a strong performance in last year's championship when she comfortably exceeded all preseason expectations, eventually coming fourth in the overall competition.
This year her ambition was to be a contender for the overall series crown. Laying down her intent from the outset she won the opening round in Belgium and went on to dominate the podium achieving a class leading four out a possible five podium finishes. She was crowned vice champion of 2016  following one of her characteristically inspired race performances at the final round of the series in Buxtehude conceding the championship title by a mere single point.
Reflecting on what has been the most successful season of her career Magda comments " Once again I have exceeded my own expectations during what was one of the most challenging and exhilarating seasons of my career to date. I am delighted at the outcome and the fact that the entire series was characterised by the very best standards of sporting behaviour. I am so grateful to my extraordinary team members and my commercial partners without whom none of this success would have been possible. I also wish to acknowledge and express my gratitude for the phenomenal support of my fans ".
The final positions in the 2016 FIA European Championship for Touring Cars were as follows.
Ben Philip GUNDERSEN ( Nor )  107
Magda ANDERSSON ( Swe )      106
Fredrik MAGNUSSEN ( Nor )         93
For further information, detailed event results and final standings please click on the following the link.              http://www.fiaworldrallycross.com/standings
Please stay in contact with Magda through her social  media channels and watch this space for further news on the next exciting chapter in the career of one of Europe's most talented and promising young drivers.